Two recent episodes of our Safety Bytes podcast highlight some important issues that are often overlooked in many workplaces.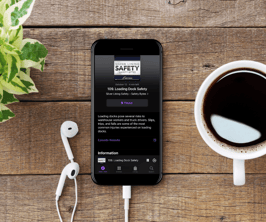 Episode 108, Eyewash Stations goes over some important details from the Occupational Safety and Health Administration's (OSHA's) requirements for eyewash stations. These stations are a critical piece of employee safety if personal protective equipment fails and a dangerous chemical gets into an employee's eyes. Eyewash stations must be easily accessible and properly maintained, otherwise employees are at risk of infection. Many times, these stations get blocked behind clutter in maintenance areas which renders them basically useless. Listen to the episode for detailed information on when eyewash stations are required and other OSHA requirements.
Episode 109, Loading Dock Safety discusses another important workplace safety issue. Loading docks are very busy places and can pose serious hazards for warehouse workers and truck drivers. This episode reviews a recent loading dock injury claim we received and covers some basic safety tips including, making sure the dock area is well lit and ensuring trucks are turned off and brakes are applied while they are being loaded or unloaded.
Our monthly Safety Bytes podcast covers a variety of workplace safety topics in episodes that are approximately five to eight minutes long, making it the perfect safety resource for busy employers. For additional topics, visit the archives and check back monthly for new content!