Forklifts are common in many manufacturing, construction, and warehousing businesses. They are an essential tool for moving heavy items; however, when used unsafely they can cause injuries. According to the Occupational Safety and Health Administration (OSHA), forklifts cause 85 fatal injuries and 34,900 serious injuries every year. Employees can be injured when forklifts are accidentally driven off loading docks, they're struck by a forklift, or they fall while on elevated pallets on the forks. It's critical for employees using forklifts to be properly trained and for safety information to be readily available for drivers to prevent injuries.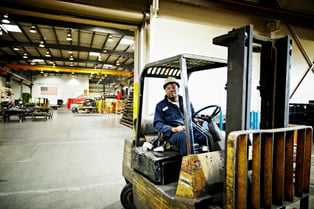 Safety tips for operating forklifts
Check out our safety summary for these and other tips to protect both drivers of forklifts and other workers around them:
Don't operate a forklift unless you've been properly trained.

Don't use a forklift to lift other workers who are standing on the forks.

Use seatbelts and keep arms, legs, and hands inside the cage.

Drive, turn, and stop slowly.

Don't let anyone walk under elevated loads.

Don't exceed load capacity.

Use extreme caution on grades and ramps.
Training requirements for forklift operators
OSHA requires that forklift training is provided by persons who have the knowledge, training, and experience to train powered industrial truck (forklift) operators and evaluate their competence for each type of forklift in the workplace. Training should include both instruction and practical training such as demonstrations on actual forklifts in the workplace. For more information on training requirements, read through this training safety summary.
Keeping employees safe while operating forklifts is important for any organization that utilizes this equipment. To protect your workforce, take the time to make sure employees are properly trained and aware of the dangers associated with forklifts.