Gait belts are critical pieces of equipment in many residential and medical facilities. A gait belt is a device that's used to prevent falls. It's a belt that goes around a person who needs help moving from one place to another or getting up from a chair or bed. A staff member holds onto the belt and can assist or steady the person if he or she begins to fall or lose balance. Gait belts can be used daily, especially in facilities that serve an older population. However, to keep both residents and employees safe, gait belts must be used properly.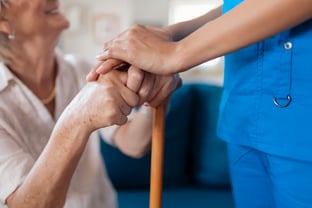 Gait belt safety tips
West Bend has developed many safety resources for gait belt transfers. Check out this safety summary for these tips and more:
Ensure the resident is predictable and able to bear weight for the duration of the transfer.

Maintain two points of contact with the resident throughout the transfer.

Stay close and coach the resident throughout the transfer.

Stand closer to the resident's knees than back. This encourages pulling instead of lifting.

When the resident is ready to stand up, give a rocking three count, tell the resident to lean forward, and pull the resident to a standing position. Never lift.
Other safety resources
There are many different scenarios where gait belts are used. Read through these resources for safety tips for each unique transfer.
Using a Gait Belt with a Walker
Using a Gait Belt with a Helper
Ensure employees who perform transfers with gait belts are well-trained and following these safety tips. This will help prevent injuries to both the employees and residents.