Employees who drive for a living encounter a few unique issues in their work environment, America's roadways. Anyone who's been on a long road trip knows sitting in a vehicle for hours can be hard on your body. For drivers on the road all day, every day, a properly adjusted seat and mirrors are critical for safety and comfort. Drivers are also very likely to encounter work zones, especially during the summer months. Two recent episodes of our Safety Bytes podcast covered these issues!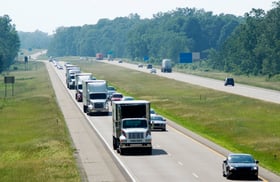 On episode #94, Ergonomics for the Road, our work comp experts discuss ergonomics for drivers. Most often when we think of ergonomics we think of workplaces or offices. However, for workers who spend most of their time behind the wheel, proper ergonomics is just as important in their vehicles. This includes properly adjusting the seat and mirrors and taking breaks along the way. Listen to the entire episode here!
Another road safety issue is featured on episode #95, Roadway Work Zone Safety. Everyone knows the frustration of seeing orange barrels and "Lane Closed Ahead" signs. Work zones can be dangerous, especially for commercial truck drivers. Listen to this episode for quick tips to keep drivers and others safe during construction season.