Slips, trips, and falls are some of the most common causes of workers' compensation injuries across all industries. The resulting claims can also be the most expensive, especially when workers fall from elevated heights, like stairs or ladders. But stairs are a part of most workplaces and ladders are often needed as well, even in office spaces. So how can employers keep their workers safe?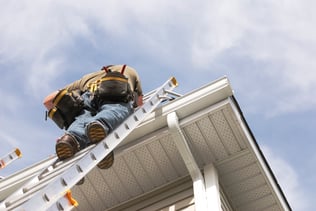 Two recent Safety Bytes podcasts dealt with this very topic! In Episode #104, "Stairs and Stepladder Safety," our work comp experts discuss safety tips for stairs and guidelines for designing safe staircases when building new buildings or remodeling. There are also good safety tips for stepladder use in this informative podcast.
In Episode #107, "Ladder Safety: An Eye-Opening Example," our experts break down a real work comp claim. An employee was climbing up to the roof when he slipped off the rung of a ladder and fell 20 feet, seriously injuring his legs. This costly and painful injury could have been avoided with some best practices, which are outlined in the podcast.
Our Safety Bytes podcast comes out every week, with short, informational podcasts on a variety of topics to help you keep your employees safe. Check them all out here!