Many community organizations and YMCAs are committed to helping their members lead healthier lifestyles. One way many do this is to offer different fitness classes. Some of the best classes for members trying to lose weight or for older adults with mobility issues take place in pools. Pool exercise is low impact and many organizations are increasing the aquatics classes offered in order to accommodate different members' needs. Often, these members need assistance getting into and out of the pool.
Since 2012, in order to be compliant with the ADA, public pools have been required to be accessible to users with disabilities that prevent them from easily getting into and out of a pool. Many pools have complied with this requirement by installing mechanical chair lifts, which are very useful for users with disabilities or mobility issues. These lifts are expensive and must be maintained properly in order to keep users safe. We've written about pool starting blocks breaking due to the corrosive nature of indoor pools; the same issues can occur with mechanical pool lifts.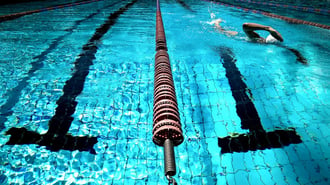 Pool Environments
Depending on the pool environment, lifts may need different or more frequent maintenance. If a lift is installed in an outdoor pool, it should be covered when not in use to protect it from the elements. If possible, store an outdoor lift inside during the winter/off season. Lifts installed in indoor pools with chlorine may require more frequent inspections and cleaning. Lifts used in indoor salt-water pools definitely require very frequent inspections to ensure the salt is not corroding lift components.
Cleaning and Inspections
A pool's lift should be cleaned and inspected regularly. Maintaining a log to track cleaning and inspections can be very helpful if something does happen to the lift. The external components on a pool lift should be cleaned with fresh water at least daily. The lift should also be inspected daily before use to ensure it's working properly and all components and hardware are secured. A more thorough cleaning and inspection should be completed monthly; see this checklist of monthly maintenance tasks that will help keep lifts running smoothly.
Safe Usage
Lifeguards and aquatics instructors should be trained to help users properly use pool lifts. This will ensure the lifts are used correctly and eliminate some problems caused by user error. Employees should also be aware of a lift's weight limits. While this can be a tricky subject with lift users, it's important to stay within the weight limit to avoid accidents.