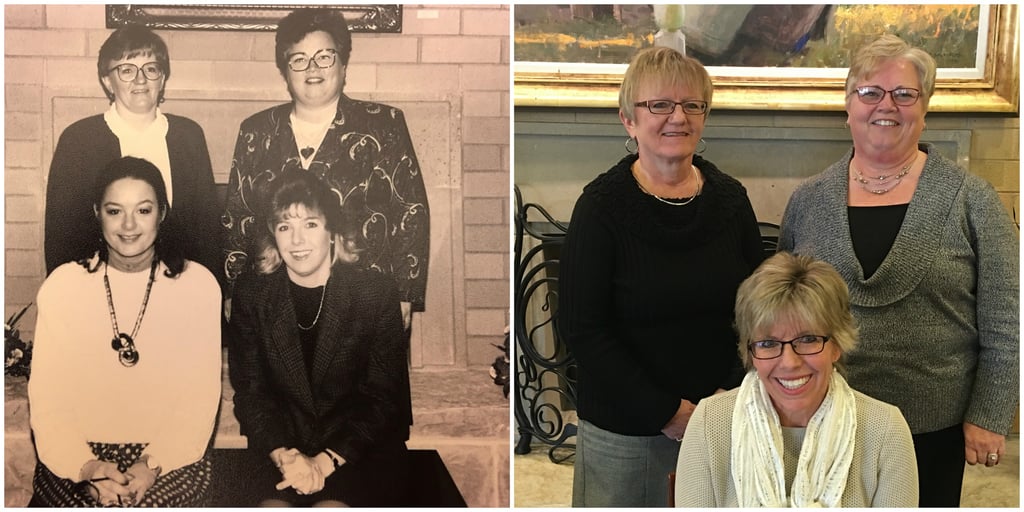 Meet Nel (left), Bonnie (right), and Lisa (seated). The collective knowledge of this group of lovely ladies is amazing! I can only imagine there are few companies that have this type of dedication and tenure.
Nel worked at West Bend part-time as a policy checker from 1978 to 1981. The hours were perfect since her husband could be home with their children and they didn't need to hire a sitter. They moved back to Upper Michigan but returned in 1989. She began working once again at West Bend, this time in Personal Lines. Over the years, Nel worked in various departments - Commercial Lines, Accounts Receivable, the Help Desk in IT, Marketing, and now in the Executive area where she's been for 16 years. "By working in several departments, I got a chance to learn a lot about each of them which helps me in the job I have today. I consider myself fortunate that I love what I do and I get to do it at such a great company! The job, the people, the benefits, the building, and grounds all make this a great place to work. It's so nice to escort guests around our company and listen to their comments – they're in such awe. I tell them we are very spoiled and we know it!"
Bonnie started her career at West Bend, also part-time, during her senior year at Kewaskum High School in 1974. Her first position was in what was called Agent's Service (a typing pool). She then moved into the checking area (proofreading what was typed in Agent's Service). "After doing this for a couple of years, I realized I was not going to quit and go to college, as was my original plan," Bonnie said. "It was time to do something else. I applied for a position in the Rating Department and became a rater of homeowners and dwelling fire policies, and then an underwriting assistant." West Bend's president and CEO at the time convinced her to take some insurance courses, and before she obtained her Associate in Underwriting designation, she was promoted to personal lines underwriter. She's been underwriting for 30 years in Wisconsin, Iowa, Illinois, Indiana, and Minnesota. Bonnie is currently a senior personal lines underwriter for Minnesota and Iowa. "While I regret not taking the time for college, I am happy to still be working here after 42 years. I truly appreciate the career opportunities offered to me by West Bend. By far the best thing about working at West Bend is the people I've gotten to work with and to know over the years."
Lisa started in Agent's Service in 1986 and transferred to Personal Lines in 1987 where she held three different positions. When her daughter was born in 1998, chose to stay at home. In 2006, she returned to West Bend and to the same position she had when she left: assistant underwriter in Personal Lines. In order to have a bit more flexibility for her young family, she took a position in Office Services/Policy Assembly/Printing. She worked in that role until she was promoted to office services supervisor in 2009. Then in 2013, she took a position as a commercial lines policy processing supervisor because she was ready and excited to grow and learn more about other areas of West Bend. Lisa said, "I am very thankful for all of the opportunities West Bend has given me and I look forward to the future. I enjoy change and all the chaos that goes with it - it has been a great ride and I look forward to my future at West Bend."
#TBT