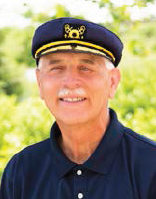 Marv Wolf is retiring on December 28th after 25 years at West Bend!
As landscaping supervisor, Marv has created a beautiful campus for everyone to enjoy. When Marv was hired, the land was a baren farm field. Over the course of 25 years, both he and his staff have planted 12,000 - 15,000 trees, as well as countless wildflowers and plants.
Today, Marv and his team oversees everything outside the buildings which includes: turf maintenance, tree health care, plant and plant bed maintenance around the buildings, the watershed program, all snow removal, maintenance of roads, sidewalks, parking structures, maintenance of outside of buildings, maintenance of fleet vehicles, maintenance of prairie and trails, and maintenance of interior plants.
We wish Marv the best! You will be missed!