2014 Corporate Challenge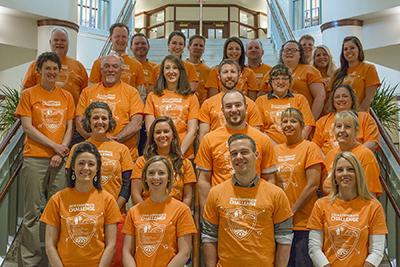 May's 2014 Corporate Challenge began with the CEO boat race and trivia contest. Chris Zwygart, vice president and chief risk officer, filled in for Kevin Steiner. Competition was fierce throughout the week-long event and it all came down to the last night here at West Bend.
Events included a yoga tree pose and plank challenge, as well as the brand new Cook Off! A huge thank you to Chef Michael for doing a remarkable job organizing and overseeing the event. Nine teams took over the kitchen here at West Bend with one hour to make a plate of food. Three judges from local restaurants then rated the plates in three categories. West Bend took fourth place in that event.
Here are the final standings for the 2014 Corporate Challenge. West Bend's team did a great job and came in a respectable third place over all. Froedtert & The Medical College of Wisconsin Community Physicians took first place this year.
Thank you to everyone who helped, took time to participate, and had FUN! We'll be back next year!!!
###