2014 WBMIC scholarships awarded to local students
We're happy to announce the 2014 West Bend Mutual Insurance Company
scholarship winners!
• Katherine Von Bank – winner of the WBMI Associates' Children Scholarship
• Zach Galante – winner of the WBMI Columns Scholarship
• Samuel Blawat – winner of the WBMI KEYS Scholarship
• Jessa Ehlinger – winner of the WBMI Honours Scholarship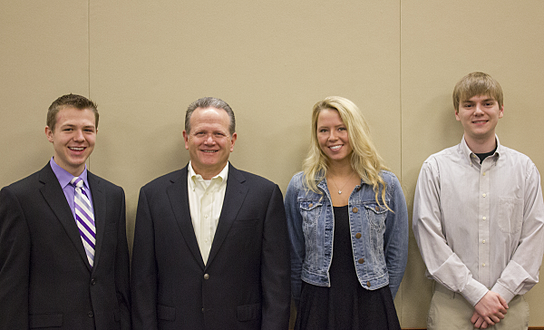 Katherine Von Bank is the daughter of Terry and Kevin Von Bank. Terry is an IT manager at West Bend. Katherine attends Menomonee Falls High School where she is a member of the National Honor Society, Health Care Academy, Student Council, and Living the Life of an Athlete. Katherine played four years of high school volleyball and more than four years for the Milwaukee Sting Volleyball Club. She was named to the Second Team All Conference two years in a row. She was also co-captain of the team when she and her teammates won the State Championship in 2013. Katherine enjoys volunteering for the Special Olympics, working with physically-disabled young children at volleyball camps. Katherine will attend the University of Madison where she plans to pursue a degree in biomedical sciences.
Zach Galante attends West Bend East High School. He's the son of Kurt and Michelle Galante. Zach is an Eagle Scout, a Vigil Honor Member, and has been on the French Exchange through the high schools. He's been involved in Key Club, performed in six musicals, and has logged more than 400 hours of volunteer work. Zach will attend the University of St. Thomas where he'll study business administration and Catholic studies with a minor in French.
Samuel Blawat, the son of Michael and Ruth Blawat, attends Kewaskum High School. He plans to go to Wisconsin Lutheran College and major in biology and psychology.
Slinger High School senior, Jessa Ehlinger, was selected for Badger Girls State and was the Rotary Academic Student of the Month in November. She's won many first- and second-place trophies for forensics and has won a myriad of "starred first" awards (the highest honor) at solo and ensemble for singing and playing the cello. Jessa is a tutor for dyslexic and ADHD children, as well as a member of the Human Rights and Diversity Clubs. She plans to attend Wisconsin Lutheran College and major in biology with a minor in Spanish. She would like to become a veterinarian.
###