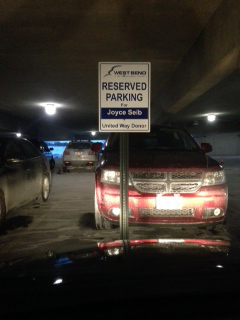 Associate Joyce Seib comments about enjoying her reserved parking spot on a cold Wisconsin day. Seib won the parking spot in a raffle drawing for associates who donated to the United Way.
"So excited to arrive at work on a very cold winter morning and be able to park soooooo close to the door. I was sure, with my luck, the weather as of February 1, 2014 would have improved to at least 30+ degrees!
Sorry my fellow co-workers but I am going to enjoy at least one week of this and then I will be happy to see it warm up!"
###