West Bend raises $458,000 for MACC Fund!
On August 18, West Bend Mutual Insurance Company, along with independent insurance agents who represent our company and key business partners, came together to support the MACC Fund, Midwest Athletes Against Childhood Cancer. At the end of the day, West Bend President and CEO Kevin Steiner proudly presented a check to the MACC Fund!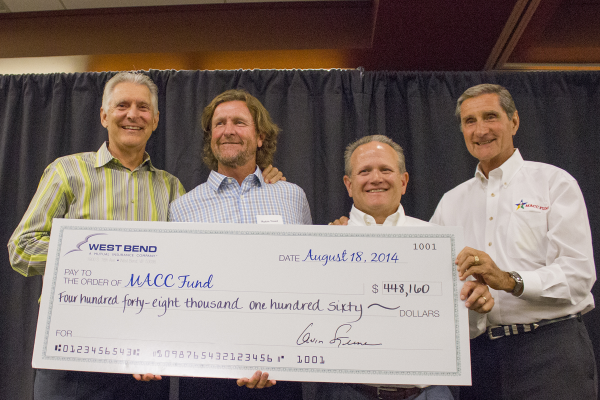 (From left): Andy North, Robin Yount, Kevin Steiner, and Jon McGlocklin with the check, showing the preliminary amount raised, from The Silver Lining MACC Fund Event at West Bend.
This is the fourth year West Bend has hosted the event. In 2012, participants raised $292,000; in 2010, $154,000; in 2008, $76,000; and in 2006, nearly $60,000.
Accepting the donation were Jon McGlocklin, co-founder and president of the MACC Fund and former Milwaukee Buck; Robin Yount, strong supporter of the MACC Fund and former Milwaukee Brewer; and Andy North, member of the MACC Fund Fund's Honorary Athletic Board and former professional golfer.
"I'm very proud of the entire West Bend team who created a perfect day for our event," Kevin Steiner said. "Our independent agency partners and business partners stepped up and generously supported the MACC Fund. The impact of their contributions is substantial and certainly gives hope to children fighting childhood cancer and blood disorders."
The MACC Fund is a charitable organization founded in 1976 by McGlocklin and former Buck's announcer Eddie Doucette to support pediatric cancer and related blood disorder research in Wisconsin. Since its inception, the MACC Fund has contributed more than $50 million to this cause. Cancer is the leading disease-related cause of death in children after the newborn period.
With continued support, we can only hope that Jon's wish that someday there will be no need for the MACC Fund will come true.
###