Kevin Steiner honored by MACC Fund
West Bend's Kevin Steiner was awarded the MACC Fund's Don Contardi Commitment Award by Jon McGlocklin, president and co-founder of the MACC Fund, at the August 18 MACC Fund Event at the Prairie Center. The award was presented as part of the company's fifth biennial Silver Lining MACC Fund Event.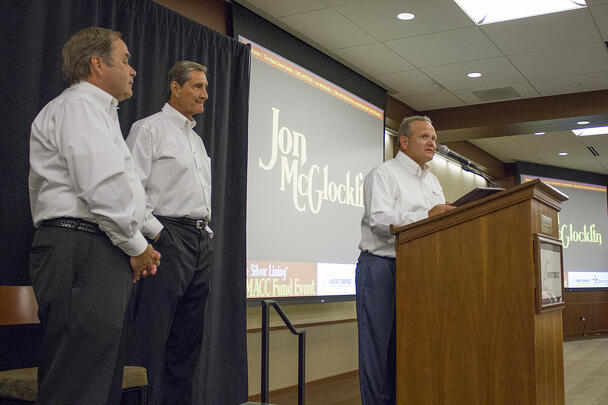 Don Contardi was an early member of the MACC Fund's board of directors whose tenure dated back to 1978. A commercial real estate executive, he was dedicated to helping children and was deeply touched by those battling cancer. Sadly, he was later diagnosed with cancer and died in 1984. The MACC Fund established the award – the only award the MACC Fund gives each year – in 1985. It's given to an individual or company personifying Don's commitment to fighting childhood cancer.
In presenting the award, Jon McGlocklin noted, "Kevin Steiner, like Don Contardi, is a valued member of the MACC Fund's board of directors. Like Don, he has a passion for helping the children, and his career and commitment clearly show that. He personifies the goodness and kindness of this award's great namesake."
You can read more at The Business Journal here.
###