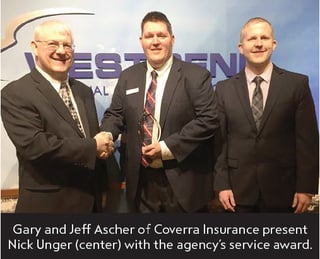 Congratulations to Personal Lines Underwriter Nick Unger! Nick recently received the Coverra Insurance Services Award for Personal Lines for both the fourth quarter and for the entire year in 2015!
Each quarter, Coverra Insurance, located in Sparta, WI, recognizes an insurance company associate who offers outstanding service to the agency and helps them meet their agency goals. Coverrra employees nominate winners who meet the award criteria. Here's what Coverra Insurance employees had to say about Nick:
"Nick Unger is always helpful, willing to review numbers with us, and to help in any way he can."
"He answers all of my questions and he has taught me a lot."
"Nick has a great attitude."