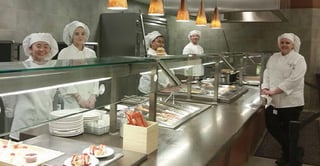 In addition to his duties as head chef in our Terrace, Michael Rennicke has been busy serving as mentor to several area high school students. Serena, Samantha, Frannie, Jesse and Macie make up the West Bend High School's ProStart Competition Team.
Michael and the Terrace staff have been wonderful supporter of the students, the high school culinary program, and their upcoming competition. The students will represent East and West High Schools, as well as the West Bend community, at the Midwest Foodservice Expo on March 8 at the Wisconsin Center in Milwaukee.
You may have seen the students recently in the Terrace or at a variety of restaurants in our community. Sally Heuer, culinary and hospitality instructor at the West Bend High Schools, says these events provide wonderful opportunities for the students to increase their skill levels and reach for that "next level" in hospitality.
We wish the students well in their upcoming competition!