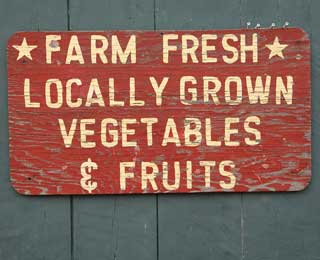 September means back to school, the start of football season, and for the chef in your family, a great opportunity to stock up on freshly harvested fruits and vegetables. Farmers' markets offer fresh produce directly from local farmers, growers, and producers. Fresh fruits, vegetables, and products that are direct from local farmers offer many benefits -- for the health of your family, the community, and your weekly menu.
Here are just a few reasons why you should consider a visit to your local farmers market this season.
1. A Boost In Nutrition. Fruits and vegetables pack a healthy punch of vitamins, nutrients, and minerals. What you may not know, however, is that with time, produce loses nutritional value. In many cases, the water content in produce begins to absorb the valuable nutrients, making the produce less nutritious over time. Choosing to purchase freshly picked fruits and vegetables from a farmers market means you are getting produce at the peak of freshness with all of the valuable nutrients.
2. Supporting the Local Community. There is something to be said about the importance of supporting local businesses, and local farmers are no exception. When you stop and shop at a farmers market, you are helping to support local growers and their families. The dollars you spend directly impact your local community and allow farmers to continue to provide fresh, sustainable produce directly from their farm to your family.
3. Variety of Options. A trip to the farmers market will open your eyes to a plethora of seasonal fruits and vegetables that never find their way to your local grocery store. You can often find foods native to your area and more varieties of the produce you love. Consider apples: your local grocery store likely stocks 5 – 10 apple varieties based on popularity and sales performance. If you visit a local farmers market or orchard, you can often find many additional apple varieties with unique flavor profiles. If you want to add some spice and interest to your weekly menu, consider adding a new produce item to your daily meals.
4. Environmentally Friendly. Food items in the United States travel an average of 1,500 miles to get from the farm to your table. From the fossil fuels to the extra packaging required for shipping; food delivery has a big environmental impact. When you choose to shop locally for produce and food items, you are doing your part to help the environment.
5. Save Money. When you visit a grocery store, the cost of organic and sustainably grown produce can put a real dent in your pocketbook. But did you know that at a farmers market, the cost for freshly picked, sustainably grown (and often organic) produce is just a fraction of the cost? It's surprising and true. Without the added overhead of rent, executive salaries, and shipping costs, farmers can often charge much lower prices for the produce you love.
6. Learn New Recipes and Cooking Tips. Many of the farmers you'll meet at a local market are not only proud of the items they offer; they are eager to share helpful tips, recipes, and information to help you get the most out of our purchase. Farmers are a wealth of knowledge when it comes to how to deliciously cook, sauté, roast, and enjoy your seasonal favorites.
7. Get Outside and Get Into Nature. While the weather is still warm, take the opportunity to get outside and get into nature. Many local markets, farms, and orchards offer activities you can enjoy outside with the whole family; from corn mazes to apple picking, you could spend the whole day exploring the outdoors and come home with a bushel full of fresh produce.
Do you have a favorite seasonal fruit, vegetable, or product? Share your favorite food or farmers market location in the box below.