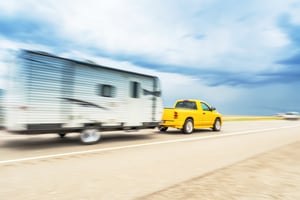 Since the start of the worldwide pandemic, sales of travel trailers set records. Unfortunately, many buyers purchased units without knowing some important details and this resulted in some costly mistakes. If you're considering buying a travel trailer, here are some important things to think about before purchasing.
1. Verify the max payload. Before searching for a trailer, verify the max payload/weight your towing vehicle can safely handle. Overloading a tow vehicle is dangerous and may wreck the vehicle or lead to a serious accident. To find this information, refer to the vehicle owner's manual or contact the dealership where you purchased it. This will also help narrow down you trailer options. Don't rely on the salesperson to know your specific vehicle.
2. Investigate hitch options. Once you've found the weight information for your tow vehicle, investigate hitch options. There are four main types of hitches for trailers:
Weight-carrying (standard hitch on most vehicles);
Weight-distributing;
Gooseneck; and
fifth wheel.
The type of hitch will depend on the tow vehicle and travel trailer you're considering. The hitch will have a big impact on how the trailer travels on the road so having the correct hitch is very important. It can mean the difference between a white-knuckle, exhausting drive or a comfortable, pleasant drive.



3. Extend your view to eliminate blind spots. The standard mirrors on your vehicle may not allow you to see your entire trailer. Extended side mirrors can be permanently installed or you can use clip-ons and attach as needed. Both options will improve your view; which one you use is a personal preference of which cost may be a factor.

4. Contact your insurance agent. Before picking up your new travel trailer, contact your insurance agent. Make sure you purchase physical damage coverage before leaving the lot to protect your new investment. Remember, there's no coverage until you contact your agent for coverage. Your agent can also tell you about any optional coverages that may be needed.

5. Practice. If you've never driven with a trailer behind your vehicle, it's important to practice before embarking on a road trip. It's recommended you go to a large parking lot and drive around to see how the trailer follows your vehicle and to practice backing. Having a large open area in which to practice will help you become comfortable safely operating your vehicle and trailer.

One last - and very important - item to keep in mind is that speed kills. When pulling a trailer, there's a significant difference in stopping distance, even when the trailer has brakes. While it seems obvious, people can forget this in the rush of life. Plan for the travel time to take longer than normal. Be safe and enjoy the journey.

Do you have any tips you'd like to share? I'd love to hear your thoughts; please share them in the box below.

This blog was written by Nick Unger, Personal Lines underwriting supervisor.

This article is intended for general educational and illustrative purposes only and should not be construed to communicate legal or professional advice. Further, this article is not an offer to sell insurance. Please consult with your licensed insurance agent for specific coverage details and your insurance eligibility. All policies are subject to the terms, conditions, limitations, definitions, and exclusions contained therein.