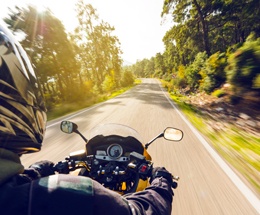 Is learning to ride a motorcycle on your bucket list? Now that the weather is getting nicer, you're closer to making this dream a reality. Growing up riding dirt bikes with my friends, I know how fun and exhilarating riding can be. It offers a new perspective to seeing the world!
If you don't own a motorcycle, you can still learn to ride. Some basic rider classes provide instruction and the motorcycle for your use. With patience, practice, and some helpful information, it won't be long before you can cross this off your bucket list. If you're a new rider or considering becoming one, here are some tips for you.
1. Do your research. Before beginning to ride, it's important to do your research. If you don't have a motorcycle, figure out which one may be the best one for you. Like cars, motorcycles come in all shapes and sizes. Visit your local motorcycle dealership(s) to learn what motorcycles they have and which ones are good for beginners. Make sure you ask a lot questions. If you feel pressured to buy, find another dealership. To learn more about the different types of motorcycles available, click here.
Buying a motorcycle strictly based on price or looks can lead to dangerous situations.
2. Review your state's motorcycle handbook. Many states have a supplementary handbook that explains:
Requirements for motorcycle operation;
Steps for getting your license;
Motorcycle laws;
Gear needed to ride; and
Handling dangerous road situations and mechanical problems.
3. Buy the proper gear. As with any new sport or activity, having the essential gear can help keep you safe. As a new rider, you're more prone to tipping over and accidents. Riding in shorts and flip-flops aren't the best choices. Here's a list of gear to consider.
Helmet
Eye protection
Leather jacket and pants
Boots
Gloves
In some states, wearing a helmet is the law. To see what your state requires click here.
4. Enroll in a class. Once you have made the decision to ride, consider enrolling in a class. Basic rider classes, such as the one offered at Road America, teach basic riding skills in a safe, controlled environment. They even provide the motorcycles!
By taking a class that provides the motorcycles, you'll be able to decide if riding is right for you without making a financial investment in a new motorcycle. To find a list of classes near you, visit the Motorcycle Safety Foundation.
5. Become familiar with your motorcycle. Operating a motorcycle relies on a lot of eye, hand, and foot coordination. If you take a class, you'll learn the different controls. It's essential to know these to obtain your learner's permit through the DMV. Here's a brief rundown of some of the motorcycle controls.
Throttle grip. This is similar to the foot petal accelerator in your car. It's on the right side of the handle bar and is controlled by twisting it with your right hand.
Front brake. This is also on the right side of the handle bar and should be squeezed gently with your right hand to apply pressure to your brake.
Rear brake. This is located on the lower right side of the motorcycle. Use your right foot to press down gently to apply brake pressure.
Gearshift lever. This pedal is on the lower left side of the motorcycle. It's used to change the gears as you drive. The gear pattern is usually first gear down with the remaining gears up.
Clutch lever. This is usually found on the left side of the handlebar. It's used when changing gears.
6. Practice makes perfect. Once you earn your temporary cycle instruction permit, you can start driving on the road. If possible, practice in an area that has low traffic volume and few pedestrians. This will help you get acquainted with operating your motorcycle. After you become more comfortable, you can start venturing out to more congested areas.
7. Contact your insurance agent. Talk to your agent to find out what insurance coverage is needed for your new ride.
As a motorist, it's crucial to be alert and on the lookout for motorcyclists. Check out my blog "Essential safety tips for sharing the road with motorcycles."
Do you have any tips or information you'd like to share? I'd love to hear them; please share them in the box below.
Source:
https://www.dmv.org/how-to-guides/riding-motorcycle.php