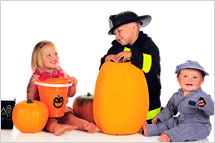 While Halloween can be a lot of fun (and the treats tasty!), it's important to keep safety in mind.
Here are some safety tips that can help keep your family, as well as others visiting your neighborhood, safe.
If you're driving during trick-or-treat hours, keep your eyes on the road and stay distraction free. Avoid using cell phones and other electronic devices.


Continually scan crosswalks and intersections.


Remind younger children not to talk to strangers and to stay out of their homes or cars. While this may seem obvious, kids get excited when it's time to trick-or-treat.


If you have older children and you're not going with them, find out what route they plan to travel and check up on them periodically via a call or text message.


Always examine candy for defects in the manufacturers' packaging. Encourage your kids not to eat homemade goodies.


If your local community's trick-or treat hours are after daylight, make sure your children have a flashlight, glow stick, or reflective material attached to their costumes.


If your dog or cat loves Halloween as much as you do, please refrain from giving them a chocolate treat. Chocolate can be deadly!
To learn more about Halloween safety, visit these sites:
http://www.mayoclinic.com/health/halloween-safety/CC00072
To spice up your Halloween festivities, visit these sites:
http://www.rd.com/slideshows/12-free-printable-pumpkin-carving-stencils/
www.tasteofhome.com/recipes/holiday---celebration-recipes/halloween-recipes
If you have any thoughts on Halloween safety, please share them in the box below.