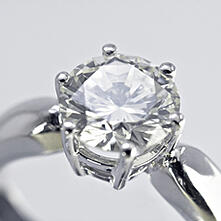 In just a few weeks, on Valentine's Day, that phrase will be heard far and wide. Just imagine her excitement when you give her the diamond ring she's been longing for. Or what about his reaction when he sees that new ATV parked in the garage? But before you spring that expensive Valentine's Day surprise on your loved one, be sure you talk to your independent insurance agent to make sure it's properly protected.
Let's say you weren't sure of her ring size so you guessed ... but it's a little too big. In her excitement, and despite the wrong size, she wants to wear it to work the next day and show her friends. But after running a few errands after work, she realizes the ring has fallen off, and she has no idea where. When she calls your agent the next day, she discovers you never added the ring to your insurance policy and he's left with the sad task of telling her there's no coverage.
Now what about that new ATV? You know he's going to want to drive it around the yard as soon as he sees it. But what if it's dark outside, and not being familiar with the machine, he goes too fast and rolls it over. Did you remember to call your agent? Again, there's no coverage for the damage unless you placed that call and had it added to your policy.
Motto of the story: Always call your insurance agent as soon you purchase an expensive item and provide him or her with the information needed to have it added to your policy.
Here's what your insurance agent will want to know about the jewelry:
• The value of the piece of jewelry;
• The color of the stones;
• The cut of the stones;
• The clarity; and
• The carat weight.
Here's what your insurance agent will want to know about the ATV:
• The vehicle identification number;
• The size of the machine; and
• The value.
It's a great feeling to see and hear your loved one's excitement when you give a special gift for Valentine's Day (or any other day for that matter)! Just make sure you have the insurance to protect that important investment. Happy Valentine's Day!

This blog was written by Personal Lines underwriter Barb Zitlow. Barb has been with West Bend for 43 years.