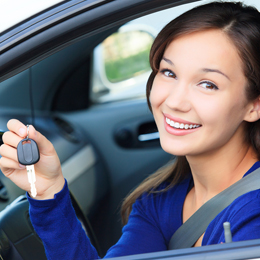 Buying a car can be an exciting but stressful time in your life. I think purchasing a used car can be even more stressful because, unless you purchase one, you don't get a warranty to cover mechanical failures. I remember buying my first car when I was in college. It cost about $3,000 and the transmission went out which was an expensive repair for a starving college student. Thankfully my parents were able to help me out!
Flash forward 20 years and I'm looking for a used car again ... this time for my own daughter. She turns 16 in April and earlier this month we bought a car for her. This process raised many questions:
1. How much do I want to spend?
2. What is the cost of insurance?
3. Should I buy a car with lots of miles at a lower price or should I spend more on a car with fewer miles?
4. Should I buy from a local dealer or where I can get the best deal?
5. How do I know if the car has been properly maintained?
6. How do I know if the car was in a serious accident?
7. What safety features does the car have?
8. What do experts, as well as consumers, say about the car?
9. Is the car reliable?
Fortunately, there are a number of online resources that can provide the answers to these questions. Here are some of the resources I used before purchasing my daughter's car.
1. Autotrader (www.autotrader.com) – Autotrader does a great job of compiling all the cars that are for sale in your area. You can see what's available without ever leaving your home which can save you time and money. You can get pricing information, pictures, dealer information, vehicle specs, and sometimes even a free Carfax report.
2. Carfax (www.carfax.com) – When you buy a used car, you never know exactly what you're getting. A Carfax report can help put your mind at ease because it provides background for:
a. Title problems – Were there any severe accidents? Is the car a lemon? Was the car in a flood? Are there issues with the odometer?
b. Ownership history – How many people owned this car? What's the mileage? Was this car used as a rental or fleet car, or was it just used as a personal vehicle?
c. Accident and service – If there was an accident, how much did it cost to repair? Were the airbags ever deployed? Is there frame damage? What do the service records look like?
3. Kelley Blue Book (www.kbb.com) – Kelley Blue Book offers suggestions for:
a. What you should pay for a new car;
b. What you should pay for a used car;
c. What your current car is worth; and
d. Car reviews and other research tools.
4. NADA Guides (www.nadaguides.com) – This great resource provides:
a. Expert reviews;
b. Consumer ratings;
c. Free VIN check;
d. The cost to own a vehicle;
e. Car values; and
f. Vehicle recalls.
5. Safercar.gov (www.safercar.gov) – This website tracks:
a. Consumer complaints;
b. Investigations;
c. Recalls; and
d. Service bulletins.
While Safercar.gov provided helpful information on past and present recalls, reviewing the consumer complaints was overwhelming. There were many complaints for most of the car brands I reviewed. If I had used only this information on which to base my decision, I would probably have chosen not to buy a car at all! I found it more helpful to review the service bulletins and recall information.
To make the entire process easier, I created a spreadsheet and loaded it with the information I found on Safercar.gov: the make, model, year, number of complaints, service bulletins, recalls, and the component or part with the most complaints. Seeing all of this information in one easy-to-read document painted a clearer picture for me. Since this information might make it easier for you to make a decision, you're welcome to download this spreadsheet. Just click on the free download button.
Remember this is just one aspect of researching a used car. It may provide you with some additional questions to ask the dealer or with leverage when negotiating a price. While I couldn't find readily-available production numbers for some of the cars I researched, my guess is that the number of complaints received versus vehicles produced is minimal.
No matter what make or model you buy, don't be surprised if you experience some frustration at some point in the process. If you do your research ahead of time, however, you're more likely to make the best decision for you and your family.
Do you have any tips on buying a car? I'd love to hear them; please share them in the box below.