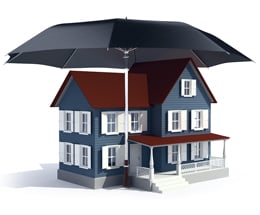 I'm not talking about a rain umbrella, but a personal umbrella for liability protection. While you may think an umbrella liability policy is necessary only to protect assets, you don't have to be a millionaire to be sued like one!
A personal umbrella provides excess liability over and above the limits provided by your automobile or homeowners insurance.
We all have liability risks that are a part of our every day life. Consider these exposures …
Do you own a gun or gun collection? Are they stored unloaded and in a locked cabinet, case, or closet? More than one third of homes with children have at least one gun, and most gun owners do not keep them locked and unloaded.
How about a boat, snowmobile, or four -wheeler? Do you let friends ride or drive?
Is there a swimming pool or trampoline in your yard? Is it fenced?
And what about pets? More than 60% of all U.S. households own a dog.
How about that loose handrail you haven't gotten around to fixing, or that dead tree that needs to come down?
Do you serve alcohol to your guests when you entertain?
Okay, so maybe those don't apply to you, but almost everyone has access to…

The internet and cell phones. These present growing exposures to libel, slander, and invasion of privacy when used recklessly to spread inappropriate comments and pictures via blogs, chat rooms, social networks, email, text, twitter, etc.

An automobile. More than 90% of all large losses stem from auto "accidents".
And think about the risk when combining the use of handheld devices while driving. Then put a teenager behind the wheel. This increases risk of a crash more than 10 times!
While these possessions and activities can provide great entertainment, all of them have led to lawsuits with damages that ranged from $500,000 to $2 million!
Personal umbrella insurance is designed to cover these catastrophic claims and provide both asset and risk protection. A $1million personal umbrella policy can cost as little as $150-$350 a year depending on your specific risks. Much less than those verdicts!
Compare the price of an umbrella policy to the cost of a pair of name-brand tennis shoes, a designer bag, dinner for a family of four at your favorite restaurant, tickets to a football game, or Broadway show. Now doesn't it seem worth the price to protect you, your family, and assets?
Go out and enjoy the good things in life but make sure you have umbrella protection first! You just might enjoy them more.
This article is intended for general educational and illustrative purposes only and should not be construed to communicate legal or professional advice. Further, this article is not an offer to sell insurance. Please consult with your licensed insurance agent for specific coverage details and your insurance eligibility. All policies are subject to the terms, conditions, limitations, definitions, and exclusions contained therein.