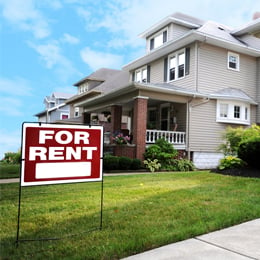 Do you rent an apartment or do you have college students that rent an apartment? Are the personal belongings in the apartment insured? If your answer is, "My landlord covers that; it's part of my rent," think again.
Most landlords' insurance covers only the building, not what's in it. So if there's a fire or tornado, your landlord will be insured, but you'll be left high and dry. That's why you need renters insurance.
Think of all the things you own in your apartment. That fire, tornado, or even a thief could take away or destroy some or all of your valuables. Can you afford to replace those items?
A common limit for personal property coverage is $30,000. Don't forget you must satisfy your deductible which can range from $250 to $10,000. You can go with a basic policy for specific types of covered loss, called named perils (including fire, wind, explosion, riot, aircraft, vehicle, and smoke), or you can opt for a policy that changes your named perils coverage to coverage for all risks of direct physical loss subject to certain exclusions. If so, your premium would be higher. To learn more about named perils, click here.
You also have to decide how your property will be replaced if you have a claim. One option is "actual cash value". This means you'll be paid for the actual value of your possessions because it accounts for depreciation. You can upgrade that coverage to "replacement cost". Then you'll be paid what it would cost to replace the item regardless of the value. Because replacement cost is more expensive, the premium is higher.
What if a guest slips and falls in your apartment due to your negligence? Do you have coverage for that? Again, if your answer is, "My landlord covers that; it's part of my rent," that's not necessarily true. Your landlord's insurance only covers liability for which he or she is responsible. It doesn't extend to your liability. Fortunately, your renters policy provides liability coverage. So if someone is injured in your apartment due to your negligence and that person submits a claim or files a lawsuit against you, your renter's policy will help protect you. A common limit for personal liability coverage is $100,000.
Another important coverage a renters policy can provide is called additional living expense. If a loss covered by the policy makes your apartment unfit to live in (think fire or tornado), your renter's policy will provide coverage for any necessary increase in living expenses that you may incur so your household can maintain its normal standard of living. Payment would be for the shortest time required to repair or replace the damage.
Other valuable coverages you can purchase include identity theft, sewer and sump pump overflow, jewelry, collectibles, and sports equipment.
Keep in mind that many landlords now require renters insurance from their tenants. Your basic renters policy probably costs about $179 a year, or $14.90 a month. For that price, you really can't afford to be without this coverage.
This article is intended for general educational and illustrative purposes only and should not be construed to communicate legal or professional advice. Further, this article is not an offer to sell insurance. Please consult with your licensed insurance agent for specific coverage details and your insurance eligibility. All policies are subject to the terms, conditions, limitations, definitions, and exclusions contained therein.