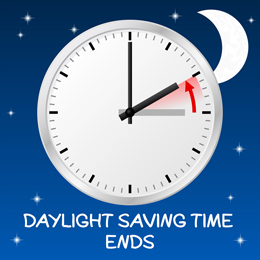 Daylight Saving Time has ended and Old Man Winter is lurking around the corner. Time spent wandering around my yard, watering plants, and talking to neighbors is over. Here are 11 tips you can follow to help survive the dark and cold days of winter, and to keep you and your family healthy and safe.
1. Inspect your smoke and carbon monoxide detectors. Smoke and CO detectors require very little maintenance; however, it's good practice to change your batteries twice a year, when Daylight Saving Time begins and ends. It's also a good idea to occasionally vacuum away dust and cobwebs in the area around your detector.
Smoke detectors last about ten years. Experts recommend that you replace them after ten years even if they seem to be working just fine. The manufacturer of my CO detector recommends replacing it after seven years. To be safe, always refer to the instruction manual for both your smoke and CO detectors so you know when to replace them.
Smoke and carbon monoxide detectors save lives!
2. Inspect your fireplace. If you haven't done so, now is a good time to have your fireplace inspected. A proper inspection will identify potential defects, as well creosote buildup.
Creosote is a black residue that travels up the chimney and builds up on the flue every time you light a fire. Many consider a creosote fire in the chimney one of the most dangerous because it can spread quickly, severely damaging or destroying your entire home within minutes.
A clean chimney can save your home and your family!
3. Inspect your car's tires and check the tire pressure on a regular basis. Cold temperatures can cause your tires to lose air pressure of more than one pound per month. Driving with underinflated tires can cause damage to your tire and decrease vehicle handling. Driving in snow can be challenging enough. Don't add underinflated tires to the mix.
Six tips for keeping your tires in shape so you can be safe
4. Put a winter emergency kit in your car. Do you have extra blankets and other supplies lying around the house? If so, it's a good idea to put those extra items in your car. Those items could include blankets, pillows, hand warmers, and flashlights. Other items to keep in your emergency kit could include a shovel, jumper cables, water, granola bars/energy bars, first aid kit including medications, extra clothing, flares, and reflectors.

5. Buy reflective clothing and other safety accessories. If you plan to continue your walking or biking routine, it's important to buy reflective clothing and other accessories. With additional hours of darkness, pedestrian accidents increase during this time of year.
I enjoy biking to work and plan to continue until the snow flies. I recently purchased a head and tail light for my bike. While these items were more expensive than they were in the "good ole days," I'm confident they'll help keep me safe.
6. Use your headlights. With fewer hours of daylight and an increased number of cloudy days during winter months, turn on your headlights when you get behind the wheel. It makes driving safer for everyone on the road.
Also, if your headlight lens covers are cloudy, consider having them replaced or look for tips on how to restore them. You'll be amazed at the difference!
7. Exercise. Use the extra daylight in the morning to jump start your workout routine. Exercising in the morning offers many benefits that last throughout the day, such as increased metabolism, improved productivity/alertness, and fewer conflicts. It's common to feel fatigued during the winter months, so give exercise a try!
8. Don't drive distracted. As I mentioned earlier, pedestrian accidents increase this time of year. And the deer population is more active from October through December due to the mating season. It's critical that you keep your eyes on the road at all times and pay particular attention to your surroundings. Watch for signs that identify pedestrian or deer crossings.
Ten tips to avoid distracted driving
9. Inspect your home keyless entry system. If your kids are like mine, they enter the house using a code for the overhead garage door. Now is a great time to inspect the system and consider changing the batteries. As the weather gets colder, I'm sure you don't want your bundles of joy stuck outside because of a dead battery.
10. Change your wiper blades. Wiper blades are probably the cheapest, yet most valuable, item on your car. Like smoke detectors, some experts recommend changing your wiper blades when we "spring ahead" and "fall back".
11. Consider replacing your car battery. Car batteries usually last four to five years. If your battery has lasted about this long, have your local mechanic take a look at it during your next oil change. They should be able to tell you if it should be replaced. It's always better to be safe than stranded.
Do you have any tips you'd like to share? I'd love to hear them; please share in the box below.