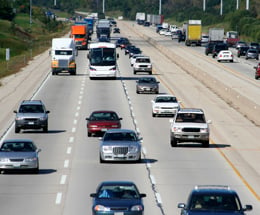 Each year, millions of Americans travel to celebrate Thanksgiving with family and friends.
While we look forward to spending time with family and friends, travel can turn our long holiday weekend into a nightmare. If you plan to hit the open road this year, here are some tips to help you safely reach your destination.
1. Take off work early.
Wednesday and Sunday are the busiest days to travel during the Thanksgiving holiday. If you have extra vacation days, consider starting your Thanksgiving travel on Monday or Tuesday. Visiting family and friends from Tuesday to Saturday can help prevent you from being stuck in holiday travel. You may even want to extend your stay. Travel begins to level out the Monday after Thanksgiving.
2. Take the long way home.
If you have to travel during peak times, consider taking alternative routes. While setting the cruise and rolling down the interstate can seem like the way to go, why not take the country roads? While there may be more twists and turns, the back way home is usually more scenic and may prevent you from getting stuck in bumper-to-bumper traffic.
3. Make sure you have your charging cords.
While more and more cars are manufactured with touch screens, some of us may not have this feature or like it. So make sure you have charging cables for your smartphone or GPS.
4. Take plenty of snacks and water.
If you get delayed due to a traffic accident or road construction, having distractions on hand for you and your occupants is a good idea. A full stomach equals a happy child, spouse, or significant other and a more enjoyable road trip.
5. Don't forget your interstate pass.
If you travel on interstate highways, make sure you're ready for the toll booths. If you have a transponder, check your account balance before you leave home and replenish it if necessary. If you don't have one, make sure to pay online. If you don't, you'll likely get notices in the mail or be fined for unpaid tolls.
6. Take your car in for a check-up.
If you plan to drive several hundred miles, having your car inspected by your local mechanic may be worthwhile. Check your tires, brakes, car battery, and windshield wipers. Ensuring your car is in good working order can prevent an unexpected breakdown and make your trip more enjoyable.
7. Get plenty of rest.
If you're taking a long road trip, get plenty of rest before you leave, and take plenty of breaks while traveling. Periodically stretching your legs and getting fresh air is beneficial. Proper rest and breaks can help you stay alert. Remember the movie Planes, Trains and Automobiles?

8. Avoid distracted driving.
You should always be attentive and alert when driving. Consider pulling off the road to eat, make a phone call, or send a text message. If you arrive at your grandmother's house and don't remember how, that's a good indicator that you drove distracted.
9. Keep a safe following distance.
If you drive during the day or in good weather conditions, leaving a three-second gap between you and the car in front of you is best. If you're driving in extreme weather conditions, like heavy rain or snow, double the following distance to six seconds. By staying back, you give yourself an escape route if something goes wrong in front of you. If someone is tailgating you, allow them to pass or pull over.
10. Remain calm.
You can experience stressful situations while driving, so take deep breaths and remain calm. Don't drive with road rage. This could cause you to do something unsafe and put you and your family in harm's way.
Driving is a privilege! Please do what you can to keep yourself and others safe this holiday season.
Do you have suggestions or information you'd like to share? I'd love to hear from you. Please share them in the box below.