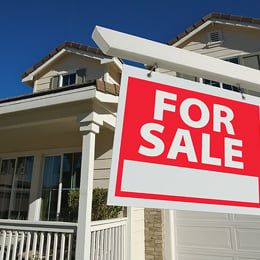 Many of us have seen pictures of the devastation a tornado can wreak. Homes are destroyed and debris is tossed for miles. Unless you've lived through it yourself, it's hard to imagine the heartache of seeing everything you own demolished within minutes.
Owning a home doesn't just require a huge financial investment. For most people, it also requires a huge investment of time, hard work, and pride. So understanding how to properly insure your home is vital. Doing so will help you get back on your feet if a tornado, storm, fire, or another peril damages or destroys it.
West Bend is represented by independent insurance agencies throughout the Midwest. They tell us one of the common questions they get from homeowners is, "Why does West Bend want us to insure our home for $300,000 if it's only worth $200,000?"
Amy Justman, a veteran personal lines underwriter with West Bend, answers this question:
When you decide to buy a home, the mortgage company mandates that you have insurance coverage in place before the closing date. People often mistakenly believe the home should be insured for the same amount it was purchased. Unless you're buying a "market value" policy, this is incorrect. In reality, most insurance companies don't consider the market value to be the true value of the home because the real estate investment market fluctuates so much.
These two key terms help us better understand how an insurance company values a home:
• Market value – The price you paid for your home, including the land. It's based on several factors, including the demand for homes in the area, the rising/falling costs of real estate, the condition of the home, the quality of schools, and the size of the lot. It doesn't have anything to do with the actual cost of rebuilding the home.
• Replacement cost – The amount it would cost to rebuild your home at the same location and a comparable size, using construction materials of similar quality but at today's prices. It doesn't consider the value of the land, the amount owed on a mortgage, or the property tax assessment.
It is important to understand that market value and replacement cost can be, and usually are, very different numbers!
Insurance companies use a replacement cost valuation tool to determine the cost to rebuild your home. This tool takes into account things like debris removal, materials, labor, contractor's and architect's fees, and site repair. Rebuilding a home is usually more expensive than building an equivalent new one. Demolition and removal of the old home must occur before rebuilding even begins. In general, rebuilding sites are less accessible than vacant lots, and labor is harder to find and more expensive with reconstruction than with new; this is now a "one off" job for the builder who has lost all economies of scale. Also, building code changes may prohibit rebuilding on the current foundation or require other changes/betterments.
Be sure to share with your independent insurance agent the particulars of your home, including square footage, the number of bathrooms/bedrooms, whether or not your basement is finished, if you have a fireplace(s), the types of mechanical systems, and any special features like heated floors or a three-seasons room. Your agent will help determine the correct replacement cost and coverage amount. Many insurance companies will also survey the property to verify coverage is sufficient.
For those who may not rebuild and/or who want a more affordable insurance premium, a market value policy is an option. Damages are covered on actual cash value basis. This takes into consideration a deduction for depreciation (loss of value since new).There may also be a co-insurance penalty. Know that when you insure a typical home for its market value, you're at risk of having incomplete coverage.
Imagine if your home was destroyed by a tornado or fire. Wouldn't you want to rebuild your home the way it was before the loss? That's why it's important to insure your home to 100% of its replacement cost and review your coverage annually with your agent.
This article is intended for general educational and illustrative purposes only and should not be construed to communicate legal or professional advice. Further, this article is not an offer to sell insurance. Please consult with your licensed insurance agent for specific coverage details and your insurance eligibility. All policies are subject to the terms, conditions, limitations, definitions, and exclusions contained therein.