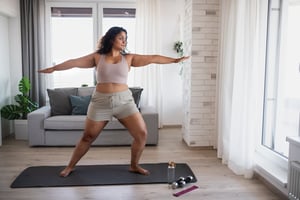 After several months of winter weather, most of us are ready for spring. Cold temperatures and snow have caused accidents and backaches from shoveling.
As we get closer to spring, the remaining weeks of winter can be even more challenging. That's why I compiled a list of tips that may help you and your family get through it.
1. Exercise, Exercise, And Exercise.
If you're feeling down or frustrated, exercise is an excellent way to improve your mood; it gets the endorphins flowing.
Consider joining your local gym or buying exercise equipment for your home. If you choose to purchase exercise equipment, watch for deals on price, free delivery, and free set-up. Even if you must pay for delivery and setup, it may be worth it. Depending on the type of exercise equipment you buy, moving from the store to your home may be cumbersome and hard.
2. Rekindle old friendships.
If you have old neighborhood or college friends you haven't seen for a while, make a point of getting together. We recently got together with old neighborhood friends, which made for a lovely evening. Visiting and reminiscing can conjure a good laugh, likely improving your mood. Even though it's still cold, try to get out of the house and socialize.
3. Re-evaluate your New Year's resolution.
If you made a resolution, evaluate how successful you've been. If you've "fallen off the wagon," challenge yourself to get back on. If your goal is to lose weight before a trip, there's still time to be successful. Don't give up! Any challenge, big or small, can be enough to keep your focus off the snow and cold.

4. Embrace a winter hobby.
There's still time to consider a new winter hobby, such as snowshoeing, ice skating, or skiing. Or, if you're like our friends who escaped cold Wisconsin winters and this is your first winter in a warm climate, consider pickleball, golf, or simply riding around in your golf cart.
5. Make your life easier;

put everyday items in your home to work.
Did you know cooking spray can make shoveling easier? It's true. If you apply cooking spray to your shovel, the snow won't stick. To learn about other exciting winter hacks, click here.

As we move into spring, changing temperatures can cause a mix of precipitation. I'm sure you've experienced a frozen car lock or ice sheet on your windshield. If your lock is frozen, put a small amount of hand sanitizer that contains at least 60% alcohol on your key and insert the key into the lock to de-ice it.

If your windshield is a sheet of ice, put three parts vinegar and one part water into a spray bottle and spray it on your windshield. This is an easier alternative than scraping your window with an ice scraper.
6. Enjoy the daylight.
While the temperatures are still cold, daylight is coming back. To me, this is awesome. My number-one complaint about winter is the darkness. Everything else I can deal with.

Take advantage of the extra daylight and go for a walk or even take a spin on your bike (assuming snow/ice and salt are off the road). Added daylight can also help improve your mood.

Do you have any suggestions or information you'd like to share? I'd love to hear from you. Please share them in the box below.