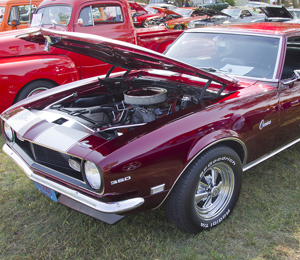 If you attend a Memorial Day or 4th of July parade in your community, you will most likely see nice classic cars in the parade. You may also see a collection of cars lined up at your local ice cream stand. Because I like cars, I enjoy looking at the cars and do so with envy.
If you own one yourself, do you know how to determine that value or how to insure it? In this blog we will discuss how to determine the value of your vehicle and how to insure it properly.
A classic/collector vehicle is defined as a private passenger motor vehicle that's at least 20 years old, is scrupulously maintained, is in excellent physical condition, is used primarily for exhibitions and club activities, and is driven no more than 2,500 miles each year.
An antique vehicle is a private passenger motor vehicle manufactured before 1950, scrupulously maintained and in excellent physical condition, whose antiquity and unique physical condition contribute greatly to its value, is used primarily for exhibitions and club activities, and is driven no more than 1,000 miles each year.
Now that we've distinguished between the two types of collector cars, how do you determine your car's value? The best way is to have it appraised by a professional accredited appraiser of classic/antique vehicles. Using his/her knowledge and resources, a professional appraiser will provide a detailed description of the vehicle and its condition at the time of the appraisal, typically for a fee.
Once you've determined the value, it's time to look for an insurance carrier to keep it protected. Not all insurance companies insure classic or antique vehicles, so it makes sense to find a company that provides the right coverage.
West Bend could be that company. With our Home and Highway® policy, your classic/antique vehicle will be insured on an agreed value basis. This means West Bend agrees to the value of the appraised vehicle, and in the event of a total loss, West Bend would pay the agreed amount for which the vehicle is insured.
When a vehicle is insured on the Home and Highway policy, we require full coverage year round. There are actually several advantages to this. First, the premium for a classic/antique vehicle is already reduced because it's driven 2,500 miles or less a year. Second, keeping year-round coverage eliminates the need to add and remove coverage while the vehicle is in storage. Third, you can drive your vehicle anytime throughout the year without worrying about having coverage.
Do you have any comments you'd like to share? I'd love to hear them; please share them in the box below.
This blog was written by Kim Bechler, senior personal lines underwriter.
This article is intended for general educational and illustrative purposes only and should not be construed to communicate legal or professional advice. Further, this article is not an offer to sell insurance. Please consult with your licensed insurance agent for specific coverage details and your insurance eligibility. All policies are subject to the terms, conditions, limitations, definitions, and exclusions contained therein.