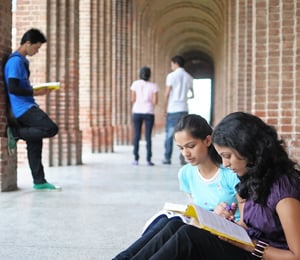 It's time for college students to migrate back to school! Before leaving home, students should make sure they have adequate insurance coverage.
A typical student can bring a variety of personal items to college, including a TV, stereo equipment, laptop, microwave, and refrigerator. According to the Insurance Information Institute (I.I.I.), most families will be pleasantly surprised to know they already have some coverage for the property their students take with them to school.
Typically, the parents' homeowners' policy will cover property stolen away from home up to a limit of 10% of the contents coverage. For example, if the parents' home is insured for $100,000, the contents coverage would be $50,000 so the coverage for a student away at college would be $5,000, minus the policy's deductible.
The Home and Highway® policy, however, has no coverage restrictions in this situation as long as the student meets our definition of an "insured," which includes:
A student enrolled in school full time, as defined by the school, who was a resident of your household before moving out to attend school, provided the student is under the age of:
(1) 29 and your relative; or
(2) 24 and in your care…
and is temporarily residing off premise. Then the full property or blanket amount is extended, subject only to the perils of the policy and the Section I deductible.
Here are some other important things to consider before sending your child to college.
It's a good idea to inventory what your student will take to college. If there's an insurance claim, the burden of proof lies with the insured so a list of items would be helpful and speed up the process. The I.I.I has created free, web-based software available at KnowYourStuff.org.
Will your student take a computer to school? If so, talk to your agent about getting coverage for it. Many companies require a rider or special policy to cover computers on campus. This is not the case with West Bend. The Home and Highway automatically covers this risk, but an endorsement which broadens coverage for the computer is available if desired.
Is your student residing in a dorm? Students in dorms are covered for liability and personal property coverages under the Home and Highway policy. If your student lives off campus in a house or an apartment, there may not be coverage under your policy. There is coverage if your student lives off campus under the Home and Highway policy. Your insurance agent will help determine what coverage you'll need.
If your student has a vehicle at college, it's important to contact your agent so your insurance company knows this. A vehicle is rated based on how it's used and in what city it's located.
If your student doesn't have a vehicle at college and is more than 100 miles from home, you may benefit if a resident student rate is applied to the policy. Does your student qualify for this discount? Talk to your insurance agent find out.
If your student doesn't have a vehicle at college, he/she must still be rated on your auto policy because the student is still considered covered under the policy. This is especially important if the student drives an uninsured vehicle.
When your student graduates or leaves school, and declares their independence by moving into their own home or apartment, he/she should purchase their own policy covering their personal property. At this point, they're no longer a member of your household and, therefore, no longer qualify for coverage.
The I.I.I. urges students to be extra cautious in locking rooms and hiding valuables. They also urge students to engrave numbers on expensive property since marked items are less likely to be stolen and markings can aid police in identification.
Do you have any tips you'd like to share? I'd love to hear them; please share them in the box below.