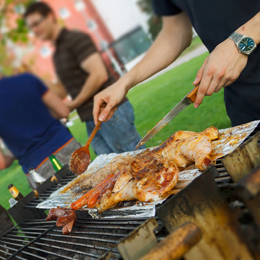 For many, grilling is a favorite pastime, especially with family and friends. Even though the end of summer is approaching, you don't need to put your grill away. Football season is upon us and it offers a great opportunity for tailgating with family and friends.
Whether having a party at your house or tailgating at a sporting event, planning is an important piece of the puzzle in order to have a fun, safe, and successful event.
Here are some tips to ensure everyone has a fun and safe time.
1. Plan meals. My wife does a great job planning meals for an entire week, so for her, this is an easy task. If you don't meal plan on a regular basis, I highly recommend you do it before the event. Getting up the day of and trying to go grocery shopping can be stressful; you're bound to forget something. Buying food ahead of time allows you to season meats, cut up fruits and vegetables, and store everything in appropriate containers. If you're taking food that can spoil, don't forget to pack it in ice to keep it cool.
2. Get your grill ready. Whenever I tailgate, I take a charcoal grill to the game. Occasionally I'll use it on a nice summer evening instead of my gas grill. If you're taking a charcoal grill to the game, clean it earlier in the week. The last thing you want to do is throw it in your car, forgetting that you have leftover charcoal in it.
If you are going to use a charcoal grill, I would recommend using instant light charcoal. While it is a bit more expensive than regular charcoal, this eliminates the need for lighter fluid. Remember to wait until the goals have a nice orange glow before cooking
If you're taking a gas grill with a large propane tank, make sure the tank stays in an upright position. Before lighting it, make sure your hoses are securely fastened. If the flame goes out, never try to re-ignite it right away. Turn off the gas, open the grill and let it ventilate for at least 15 minutes.
Lastly, pack the appropriate supplies for lighting your grill; however, if you forgot something, people are always willing and ready to help.
3. Grill time varies. Depending on the type of meat you grill, the length of time can vary. Burgers cook up fast; however, thicker meats take longer. Start grilling the meat that will take the longest and then add additional meat as you pull meat off. Cooking chicken, burgers, and brats at the same time could be challenging. Unexpected flare-ups could overcook the rest of your meat.
4. Drink plenty of water to avoid dehydration. Spending a day in the sun can lead to dehydration. Make the most out of your tailgating by alternating alcoholic drinks with water.
5. Make sure you have plenty of sunscreen.
6. Dispose of trash and hot coals in the appropriate containers. Accidentally placing trash in a container with hot coals could have devastating results, considering how tight cars are parked and the number of people there are.
7. Be aware of changing weather conditions.
8. Designated meeting spot. Getting in or out of a professional sporting event can be chaotic. If you're traveling with others, consider designating a meeting spot. This way if you're separated, you have a plan in place for dealing with it. Trying to text or make a phone call in a mob of people isn't the safest thing to do.
9. Consider leaving the game a few minutes early. Depending on the score of the game, leaving early may not be an option. However, if your team is in the lead, it may be wise to leave the game a few minutes early. If you leave earlier, you'll be able to navigate through the concourses and parking lots safely and easily.
10. Select a designated driver.
Do you have any tips or information you'd like to share? I'd love to hear your thoughts! Please share them in the box below.