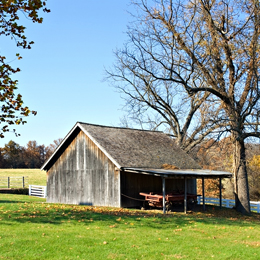 Do you have an old dairy barn on your premises? Did you just put up a new 30'x40' storage garage? Are you operating a new business out of your garage? Do you board someone's horse in an outbuilding on your premises? And most importantly, do you know if your homeowner's insurance provides coverage for these buildings, and if so, is that coverage enough?
Most homeowner's policies automatically provide coverage for "Other Structures" on your premises. However, there's a limitation on the amount that would be paid if there's a loss to the structure(s). The amount covered would not be more that 10% of the limit of liability that applies to your home.
So does your policy provide enough coverage to replace your "Other Structure(s)"? If not, you can purchase additional coverage by adding the form – Other Structures-Additional Limit to your policy.
It's possible your insurance company may want to limit coverages on some structures, like an old dairy barn. In that case, the company may offer actual cash value coverage only and limit the amount it will pay for a loss. Or there may be a structure on your premises that's in poor condition. The insurance company may choose to exclude this structure from coverage until it's repaired.
So, if you have outbuilding(s) on your property, You first need to determine if your homeowner's policy will provide coverage to your outbuilding(s). Then ask yourself these questions:
If you use the outbuilding for business, is it a business that can be insured under your homeowner's policy or do you need a separate commercial policy?
Do you store business property in the "Other Structure"?
If so, what type of business property is it?
Is there a structure on your residence premises that you rent to others for dwelling purposes? If so, you need to add a form titled – Structures Rented to Others- Residence Premises.
Do you have a personal storage structure, off your residence premises, that's not capable of being used for a dwelling? To provide coverage for this structure, you need to add a form titled – Specific Structures Away from Residence Premises.
If you have any questions or concerns about coverage for your outbuildings (Other Structures), be sure to contact your independent insurance agent. Your agent can make sure you have the appropriate coverages.
This article is intended for general educational and illustrative purposes only and should not be construed to communicate legal or professional advice. Further, this article is not an offer to sell insurance. Please consult with your licensed insurance agent for specific coverage details and your insurance eligibility. All policies are subject to the terms, conditions, limitations, definitions, and exclusions contained therein.