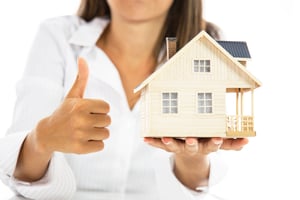 Some people consider homeowners insurance a luxury when, in fact, it's a necessity every homeowner should have. Without it, you may lose everything you've worked hard for and end up with nothing after disaster strikes.
In addition, if you're seeking a home loan for a new house, then home insurance is something you should expect the mortgage company to require.
How to pick the right homeowners insurance policy
There's more to "the best homeowners insurance policy" than inexpensive premiums. The right policy for you is the one that covers all your needs (and then some) at a price you can afford.
Getting the right policy at the best rate will take plenty of work, but these tips will hopefully make the journey easier for newbies like you:
1. Compare policies and ask about discounts.
You're less likely to find yourself with the right insurance policy if you only have one or two companies to choose from. Therefore, the first thing you should do when looking for suitable homeowners insurance is compare policies from at least four or five reputable companies in your area.
As you examine their various offerings, look at the different aspects of each policy, specifically the limits, deductibles, and exclusions.
Most standard homeowners insurance policies include:
Dwelling insurance - covers structural damage on the main building of your home in case of perils specified in the policy.
Other Structures insurance - provides coverage for structures on the property detached from the main building, like a workshop, shed, garage, etc.
Contents insurance - covers the replacement of items specified in the policy in case of theft or loss.
Liability insurance - covers legal fees and settlements for lawsuits resulting from damage to other people's properties or legal and medical costs from accidents and injuries that occurred on the property.
Moreover, please note that insurance policies typically don't cover damages caused by the perils listed below, but you may be able to purchase add-ons or extend your coverage to include them.
Flooding
Mold damage
Land movement (landslides, earthquakes, etc.)
As much as you may want to save money on your premium payments, know that the cheapest offer doesn't always provide the best value. When choosing a policy, look at the extent and quality of coverage instead of the cost of premiums.
Insurance companies may offer discounts if you're looking to save money. Ask about those when you talk or meet with an agent.
2. Look into the company's financial strength and stability.
When you have finally found a policy that fits your needs and requirements, do a background check on the company of your choice. You'll want to ascertain that your insurer has the financial capacity to meet its future obligation--specifically, paying for claims.
There are independent organizations that assess an insurer's financial strength. Insurance companies tend to share their financial ratings on their websites, but in case they don't make it a point to check or ask. You don't want your insurance company hitting a rough financial situation while you're in the middle of a claim.
3. Make sure to get enough coverage.
If you're purchasing homeowners insurance as part of your home mortgage requirements, then your lender will have specific coverage levels for you to follow. Once you know what you're looking for, consult with agents from several insurance companies to better understand what you need to include in your policy.
Just a heads up--the home insurance application process will take time. You'll be asked many questions about your home and its features. While the whole thing can feel taxing, answer the inquiries as accurately as possible and avoid making guesses. Giving the correct answers helps ensure you end up with the policy you need. Leaving stuff out intentionally or not-may result in an inadequate policy.
4. Consider customer satisfaction.
Even if you think you've found the perfect homeowners insurance policy for your needs and budget, that would hardly amount to anything if your insurer takes too long to process claims. That said, you should never forget to check and evaluate the customer satisfaction ratings of your potential insurance providers.
An easy way to do this is by browsing the testimonials on their websites. However, website testimonials tend to be filtered. For more candid opinions, consult online forums and social media reviews. The views and comments on these platforms are frank and more authentic.
Comparing homeowners insurance policies
The homeowners insurance comparison process is very demanding. Finding the right policy will require time, patience, and tenacity. Too many homeowners make the mistake of merely comparing the premiums of every insurance company on their list--which is NOT how it's supposed to be.
Very low premiums, as tempting as they are, can be red flags. Unless you're entitled to a discount, your premium can only drop significantly if there's a drastic reduction on one or a couple of your coverages.
With wise decision making and loads of patience, you're bound to find homeowners insurance that offers excellent value for money.
Lastly, read and scrutinize all the policy details, including the fine print, before signing on the dotted lines.
About the Author
Rachael Harper is the Content Marketing Strategist of Bennett & Porter, a wealth management and insurance firm based in Scottsdale, Arizona. When not writing, she makes use of her time reading books and bowling with her family and friends.
This article is intended for general educational and illustrative purposes only and should not be construed to communicate legal or professional advice. Further, this article is not an offer to sell insurance. Please consult with your licensed insurance agent for specific coverage details and your insurance eligibility. All policies are subject to the terms, conditions, limitations, definitions, and exclusions contained therein.