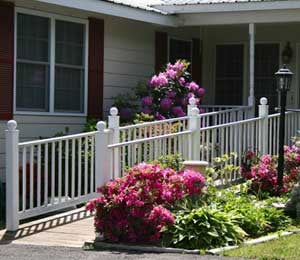 As our parents get older, we become more involved in their care. Some of the help we provide is simple, like helping them pay their bills or taking them to a doctor's visit. Other health needs may be more demanding physically, financially, and emotionally.
Today, many adult children are inviting their parents into their homes. Having your parents live with you may require making a physical change to the home, such as remodeling a bedroom or bathroom, or even building an addition. It could also require installing a wheelchair ramp.
Andrew from DiscountRamps.com, explains how to choose the right wheelchair ramp.
If you or someone you know is living with limited mobility, it's important to take the appropriate measures to ensure that any and all accessibility needs are met with the right solution. This means finding and implementing the proper wheelchair ramp for maximum maneuverability, ease of use, and safety.
Contrary to what many people think, a wheelchair ramp is far more than just a piece of lumber or metal. And there's no universal ramp that can fulfill every application perfectly.
Wheelchair ramps are designed with different materials, lengths, features, and slopes for specific purposes. These guidelines explain what makes each type of wheelchair ramp unique, how to determine which model is right for your needs, and what criteria you should use when shopping for a wheelchair ramp.
Determining the length of a ramp
The first and most important step in choosing the right wheelchair ramp is determining the proper length required for your application. Selecting a ramp that's too short will result in a steep grade that can make it dangerous, or even impossible, for a wheelchair user to safely make it up or down. Longer ramps will decrease the steepness of the slope, making them safer and easier to use than shorter ramps. To choose the proper ramp length, you'll need to make sure it fits your situation and provides plenty of safety for the user.
To determine the overall length of the ramp you need, take these measurements:
The total vertical rise you're trying to overcome;
The available distance without obstruction measuring straight out from the highest point; and
The total usable width of the area.
Armed with these measurements, and the following wheelchair ramp slope recommendations, you can determine the right length you'll need safely use the ramp with a wheelchair.
Residential unoccupied use: For residential use, when nobody is sitting in the wheelchair or scooter while it climbs the ramp, we recommend a 3:12 slope (14.5° incline), which means that every 3" of vertical rise requires at least 1' (12") of ramp length.
Residential occupied use: For residential use, when somebody is sitting in the wheelchair or scooter while it climbs the ramp, we recommend a 2:12 slope (9.5° incline), which means that every 2" of vertical rise requires at least 1' (12") of ramp.
Commercial use: For wheelchair ramps on commercial property, the Americans with Disabilities Act (ADA) requires a 1:12 slope (5° incline), which means that every 1" of vertical rise requires at least 1' (12") of ramp length. These requirements don't apply to wheelchair ramps on residential property, but many homeowners will choose to follow them.
Never attempt to use a wheelchair on a ramp with a slope steeper than 3:12 (14.5° incline).
Types of wheelchair ramps
The next step in choosing the perfect wheelchair ramp is determining what type of ramp will best satisfy your specific needs. Wheelchair ramps primarily fall into one of these three categories.
Free-Standing
When you need to make your home wheelchair accessible, free-standing ramps provide the sturdiest and longest-lasting solution, but they're also the most expensive option. Free-standing wheelchair ramps can be used as permanent or temporary fixtures, and most are made of wood or aluminum.
Wood: Wooden wheelchair ramps tend to be permanent structures because they must be constructed to fit a specific site and require ground footings to keep them securely in place. While this means they require more work to design and build, it also means wooden ramps often better reflect the style of the home or business. Ramps made out of wood don't dent as easily as aluminum ramps, but require regular maintenance to prevent rotting. They also can't be modified as easily as aluminum ramps. You also need to apply grip tape or some other anti-slip device to wooden ramps for proper traction.
Aluminum: Free-standing aluminum ramps tend to come in modular designs, which means you can purchase any number of ramp, stair, platform, and handrail sections and configure the components to meet your needs and fit your site. Aluminum ramps are less expensive than wooden ramps, and they can be set up quickly thanks to their handy modular design. There's less maintenance required with aluminum ramps, and they can easily be modified or reconfigured if your needs change. Aluminum ramps are susceptible to dents, and their metallic finish doesn't blend into surroundings as well as wooden ramps.
Portable
Portable wheelchair ramps are engineered to be lightweight, compact, and easy to use so you can take them with you anywhere. Perfect for loading wheelchairs and power scooters into vehicles, through entryways, and up stairways, most portable wheelchair ramps feature easy-to-carry handles for increased transportability and folding or telescoping designs that allow them to be stored easily inside a car, van, or SUV.
Full-width ramps: Built for maximum stability, durability, and portability, full-width wheelchair ramps are available in single-fold and multi-fold models. Thanks to their full-width design and raised side rails, these portable ramps can support the heaviest power scooters without a problem.
Wheelchair track ramps: For the ultimate in wheelchair ramp portability, a set of folding or telescoping wheelchair track ramps can be stacked together for compact storage. These lightweight ramps are comprised of a pair of dual runner ramps that can be spaced any length apart to accommodate all wheelchair and power scooter widths.
Threshold
Threshold ramps differ from free-standing ramps and portable ramps in that they're generally smaller and are simply used to bridge small gaps in height. These ramps are often used in residential settings to overcome height differences from room to room, but they can also be used to make it easier to maneuver a wheelchair over curbs or single steps. In some cases, threshold ramps can even be placed back to back where there's a threshold, doorway plate, or raised entrance to eliminate bumps or gaps that might not be easily accessible for a wheelchair.
There's a wide variety of ramps that can increase accessibility for individuals who use wheelchairs, power scooters, or other mobility devices to get around. Remember, though, that they're not all created equal. To choose the proper wheelchair ramp for your specific needs, consider your budget, how you plan to use the ramp most often, and the benefits and disadvantages of each type of ramp.
DiscountRamps.com is a leading online retailer of loading, hauling, and transportation equipment. The company offers more than 11,000 products for sale on its website, and features the internet's largest selection of affordable wheelchair ramps.