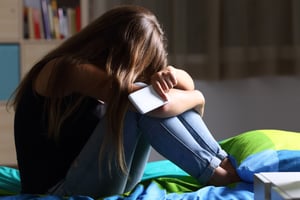 Believe it or not, one in three middle-school and high school students has been bullied over the last few years. As if this wasn't bad enough, the rise of social media has made it easier than ever to keep harassing people even after the school day ends. Today, we'll break down existing research on cyberbullying to let you know how cyberbullies operate and what you can do to stop them.
What is cyberbullying?
Essentially, cyberbullying is the same as regular bullying, only it takes place online. Victims could be spammed with threatening or hurtful messages or have their social media accounts reported for no reason.
Which platforms are cyberbullies most likely to use?
Although parents tend to suspect that most cyberbullying happens on Facebook, children report that this kind of harassment is actually more prevalent on Instagram. However, Facebook was a relatively close second, followed by Snapchat.
Of course, bullies will use any online platform that allows them to communicate with their victims. Text messages, emails, and gaming services can all be used to harass people online, and preventing one form of communication will often just result in a bully switching to a different service.
Who is most likely to be cyberbullied?
There's no "one size fits all" victim profile -- in fact, research indicates that the amount of time spent online is a more significant contributing factor than things like the victim's age or location. This study showed that spending more than two hours per day on social media makes you up to 57% more likely to have experienced cyberbullying in the last year.
According to parents, the average 14–18-year-old spends 72 minutes scrolling through social media each day. However, it's unlikely that parents know the full extent of their child's internet usage, so the actual figures could be far closer to the two-hour mark. This age group reports the highest number of bullying incidents both online and offline, yet also tends to favor Instagram (with over 67% having an account) despite it being the highest-risk platform for cyberbullying.
What to do if your child is being bullied online
Social media companies have been slow to act in the fight against cyberbullying, so it's up to the parents to help protect their children online. The most common action, taken by almost 60% of parents was to discuss safe internet practices with their child. Surprisingly, only 43% took action to block the offending accounts. While a bully can always create new accounts, this is usually a wise first step.
There are many advantages to living in an always-connected world, but unfortunately, the same tools that link us together can also be used for harassment. Social media companies must do more to prevent cyberbullying, not only to maintain their user bases. But with almost one in five children reporting instances of online harassment, this is a widespread problem that doesn't seem to be going away any time soon.

Author Bio: Ian Garland is a computing graduate with a love of technology and programming, particularly in the area of machine learning.
Company Background: Comparitech is a pro-consumer website providing information, tools, and comparisons to help consumers in the US, UK and further afield to research and compare tech services. Each month, over 1 million people visit Comparitech.com and trust us to help them make more savvy decisions