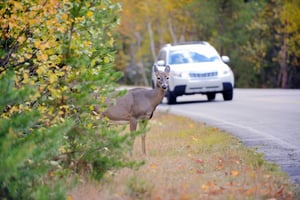 Unfortunately for many people, this time of year is the peak for deer and auto collisions. If you're wondering why, it's because the mating season for deer runs from October through December, so the population is more active during this time, accounting for that increase in collisions.
What's different now is that supply chain and labor challenges can make repairing your car more difficult. Here are some things to know.
Reasons for delay
Today's car repairs can take longer than in the past. The reasons for this include:
Delivery delay for parts
Parts distribution is impacted by driver shortages
A limited number of technicians to do the work
Hard to find qualified technicians to hire
More older cars on the road also need repairs
What does this mean for you?

Increased frustration during an already stressful time.
More time spent driving a rental car.
Paying for your rental car out of pocket because policy limits have been exhausted.
Insurance coverages explained
Collision means the upset of your covered auto or its impact with another vehicle or object. For instance:
Running a stop light and hitting another car.
Swerving to avoid a deer and hitting a tree.
Hitting a parked car, mailbox, or building.
Comprehensive coverage (other than collision) is for losses caused by missiles/falling objects, fire, theft/larceny, explosion or earthquake, windstorm, hail, water or flood, vandalism, contact with a bird or animal, or breakage of glass.
Both collision and comprehensive coverages are optional unless you have an auto loan or leased vehicle. If you don't have these coverages, you're responsible for paying for your own repairs.
Rental car reimbursement coverage / Transportation expense helps you pay for a rental car or alternate transportation if your car is damaged by a covered cause of loss. The maximum coverage limit is limited to the amount of time reasonably required to repair your covered auto. However, due to labor shortages and supply chain issues, repair time may take much longer than normal causing you to pay for your rental car out of your pocket. In addition, inflation has caused rental car prices to rise. It's important to talk to your insurance agent to see what options are available to you for increasing your policy limits. A basic limit of $30 - $50 a day may not be enough. In addition, to get a rental car that's equivalent to what you drive may require a higher limit. A luxury car costs more to rent per day than an economy car. Here are some limits that may be available to you.
| | |
| --- | --- |
| Per day coverage limit | Max coverage limit |
| $40 | $1,200 |
| $50 | $1,500 |
| $75 | $2,250 |
| $100 | $3,000 |
| $150 | $4,500 |
| $200 | $6,000 |
Again, reviewing this coverage and your options before you need it will give you peace of mind during these unprecedented times.
For safe driving tips this time of year click here.

Do you have any suggestions or information you'd like to share? I'd love to hear from you. Please share them in the box below.
This article is intended for general educational and illustrative purposes only and should not be construed to communicate legal or professional advice. Further, this article is not an offer to sell insurance. Please consult with your licensed insurance agent for specific coverage details and your insurance eligibility. All policies are subject to the terms, conditions, limitations, definitions, and exclusions contained therein.