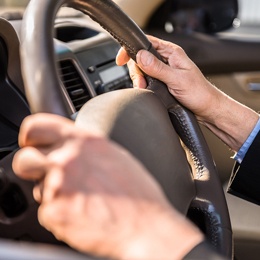 Suppose you're driving your "company-furnished" vehicle on a personal errand to the grocery store and are involved in a very serious accident. Will you have the proper insurance coverage?
It's possible you may not. Maybe your employer's business auto policy doesn't cover you when you're using a company vehicle on personal business. Even if the policy provides you with coverage, the limits of liability may be too low. If you're sued, you could be personally responsible for damages.
How do you protect yourself if you drive a company-furnished vehicle? It's easy to do if you already own a different vehicle and insure it under a personal auto policy. Simply add Extended Non-Owned Auto coverage to it. This endorsement – on your own personal auto policy – provides you with personal auto insurance while you're driving any non-owned auto furnished or available for your regular use.
So what should you do if you don't own another vehicle with insurance coverage? Purchase a Named Non-Owned Auto policy. This will also provide you with the personal auto coverage you'll need.
If that's not enough reason to make sure you have either Extended Non-Owned Auto coverage or Named Non-Owner Auto coverage, here's another: Let's say you go on vacation and want to rent a vehicle. Your employer's business auto policy isn't going to extend coverage to you for that rental. On the other hand, Extended Non-Owned Auto or Named Non-Owned Auto WILL provide this liability coverage.
Be sure to talk to your insurance agent about these valuable coverages. Depending on your occupation, there may be some stipulations.
Do you have any tips you'd like to share? I'd love to hear your thoughts; please share them in the box below.
This article is intended for general educational and illustrative purposes only and should not be construed to communicate legal or professional advice. Further, this article is not an offer to sell insurance. Please consult with your licensed insurance agent for specific coverage details and your insurance eligibility. All policies are subject to the terms, conditions, limitations, definitions, and exclusions contained therein.