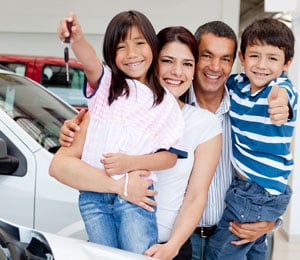 Buying a new vehicle is exciting! It's fun to learn about the latest features and options, figuring out your personal preferences, and then taking the test drive.
Once you select your perfect vehicle, however, you need to make sure it's protected by purchasing insurance or adding it to your existing policy. Theresa Meyer a veteran personal lines underwriter with West Bend, will discuss auto insurance and what Car Damage Replacement Coverage is.
Auto insurance is important primarily because it protects you from a large financial loss. After all, cars, SUVs, and trucks aren't typically cheap investments. Here's how an insurance policy can protect you:
If you cause an accident, an insurance policy can provide liability coverage for bodily injury to others and property damage to others' vehicles.


It also provides two types of coverage for damage to your vehicle. The first is "collision" coverage which refers to an impact with another vehicle or object. The second is "other than collision" coverage which refers to losses caused by falling objects, fire, theft, explosion or earthquake, windstorm, hail, water or flood, malicious mischief or vandalism, contact with a bird or animal, or breakage of glass.
The payment for damage to your vehicle would either be the amount needed to repair or replace it with parts of like kind and quality or its actual cash value, whichever amount is less.
With West Bend's Home and Highway® policy, there's even more valuable protection for your vehicle! If you purchase a brand new vehicle that hasn't been previously titled, wasn't driven more than specified amount of miles before you bought it, and wasn't a leased vehicle, you can purchase car damage replacement coverage. If you have an accident, this coverage will change the loss settlement from actual cash value to the cost to repair your vehicle with parts of like kind and quality OR the cost to replace your vehicle with a new vehicle of the same make, if possible, and if not, with a similar-sized vehicle or one with a similar body type and equipment as your vehicle, whichever amount is less.
Car damage replacement coverage does not apply if the loss to your vehicle was caused by fire, theft, larceny, or vandalism.
The car damage replacement coverage is a good investment when buying a new vehicle. Be sure to consider this option when adding a new vehicle to your Home and Highway policy. Your independent insurance agent can tell you more.
This article is intended for general educational and illustrative purposes only and should not be construed to communicate legal or professional advice. Further, this article is not an offer to sell insurance. Please consult with your licensed insurance agent for specific coverage details and your insurance eligibility. All policies are subject to the terms, conditions, limitations, definitions, and exclusions contained therein.