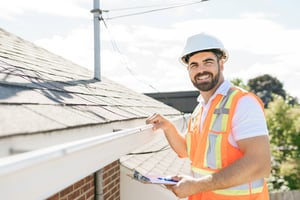 Homeowner policies have exclusions for faulty or defective workmanship. So the best way to avoid faulty contractors is to protect yourself from contractor scams.
Here are some tips that can help.
1. Contact your insurance company immediately to initiate the claim process.
If your home is damaged by a storm (a covered cause of loss), contact your insurance, and a claims representative can get your home inspected.

2. Ask for a list of licensed and insured contractors in your area and get several quotes.
This is the best way to avoid being scammed. You may also find a list using an online search service like Angi.

3. Be patient, don't rush into a bad decision.
Work through the process to understand how your insurance coverage applies to the loss to avoid possibly paying for repairs out of pocket.

4. Use common sense.
Avoid the estimates that appear too good to be true. Suppose the work is related to an insurance claim. It may sound great if a contractor promises to absorb your deductible or hide additional work in the estimate, so your insurance carrier pays for it. But what does that say about the contractor's ethics? Will they do shoddy work and cover it with fancy wrapping? Will they bring unscrupulous workers into your home with little regard for your safety and personal property?

5. Don't pay in full until you're 100% satisfied.
Be sure the work meets your expectations and any local and state building codes before releasing funds.
Unfortunately, life is full of uncertainties, so it's important to work with an insurance agent and company you trust. While you may be inclined to purchase coverage simply on price, talk with your independent agent to discuss your risks. Finding out during the claim process that you don't have proper or adequate insurance coverage isn't a good situation and could be very costly in the end.