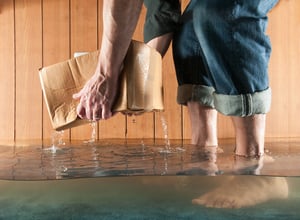 While spring showers bring May flowers, they can also bring unwanted water into your basement or cause water backups through your sewers or drains. These can be costly and messy to clean up.
The basic homeowner's insurance policy doesn't include water backup, sump pump discharge, or overflow coverage. Kim Bechler, senior personal lines underwriter, will explain why water backup and sump pump discharge or overflow coverage is necessary. Without this coverage, you would have to pay out of pocket for the damage to your home and personal property.
Who should buy Water Backup and Sump Pump Discharge or Overflow coverage?
Homeowners, condo owners, and renters may want to purchase this endorsement to protect themselves from a loss to their home or their personal property from either sump pump failure/overflow or water backing up through drains.
What type of losses would be covered under this coverage form?
Backup through sewers or drains and overflows or water discharged from a sump pump or related equipment.
If this type of loss occurs and you have the Water Backup and Sump Pump Discharge or Overflow endorsement on your policy, you would be protected against loss to your home and your personal property up to the coverage limit you purchased.
Why is it important to add this coverage to your policy and purchase an adequate limit?
Many homes have finished basements and are used for additional living space. The cost of cleaning and repairing could be a financial burden. Adding this coverage to your policy can decrease or eliminate the financial strain you could face if a loss occurs. Most carriers offer different coverage limits and some even allow you to pick a deductible that will suit your needs and budget.
How can you prevent a water backup or sump discharge or overflow from occurring?
As a homeowner, there are simple things you can do to help prevent a loss from occurring. A few common tips include, but are not limited to:
Installing a battery backup on your sump pump or installing a backup generator in your home in case your power goes out during a storm.
Installing a second sump pump if your home is in a wet area and your sump pump goes off regularly.
Making sure you install the correct pump size and that it's installed properly.
Testing your sump pump if you haven't heard it run recently. Maintenance is the key to preventing sump pump failure.
Even if you take action to prevent a loss, it doesn't mean you won't have one. Protect your home and personal property by contacting your independent insurance agent to make sure you have adequate coverage.
Do you have any suggestions or information you'd like to share? I'd love to hear from you. Please share them in the box below.
This article is intended for general educational and illustrative purposes only and should not be construed to communicate legal or professional advice. Further, this article is not an offer to sell insurance. Please consult with your licensed insurance agent for specific coverage details and your insurance eligibility. All policies are subject to the terms, conditions, limitations, definitions, and exclusions contained therein.