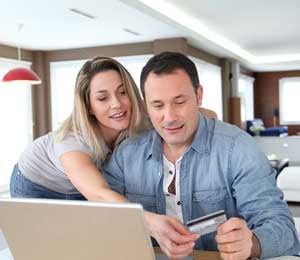 As the hustle and bustle of the holiday season approaches, people begin visiting local retailers looking for that good deal or special gift. Others may choose to avoid crowds and shop online.
Shopping online is so convenient because you never have to leave the comfort of your own home. When my kids were young, I spent many Black Fridays waiting in line in the cold. Now that they're older, my wife and I can walk to our computer with a cup of coffee and shop until our heart's content.
Here are some tips to keep you safe while shopping online this holiday season.
Online Holiday Safety Tips
1. Be leery of public Wi-Fi. If you're like me, when you're out and see you have access to free public Wi-Fi, you think, "Yes! I can check out sports scores or catch up on the news free of charge, saving my data." However, if you plan to shop online, avoid public Wi-Fi and use your cellular data instead.
2. Make sure your antivirus software is up to date. Unless your antivirus software is set for automatic updates, it may be outdated. Before you begin your online shopping this holiday season, make sure your antivirus software is up to date. Check to see when your software was last updated. If a significant amount of time has passed, do a manual download to update it.
3. Watch out for email offers. If your inbox becomes inundated with email offers that seem too good to be true, they probably are. Safety experts recommend visiting the retailer's website to find deals. Email offers with links could be a phishing scam run by hackers.
4. Do your homework. If you're ordering from an online retailer for the first time and aren't familiar with them, do your homework. Look for reviews from other shoppers to see how their online shopping experience was. If you see poor ratings, staying away is probably wise, no matter how good the deal is.
5. Frequently review your accounts. It's always wise to review your statements regularly. However, checking them more frequently during the holiday shopping season is a good idea. Online accounts allow us to see transactions up to the minute. Contact your bank or credit card company immediately if you see something strange.
6. Cold hard cash. If you're like me, you have more receipts in your wallet than cash. However, if you want to protect yourself from identity theft this holiday season, consider withdrawing money from your local bank and using cash at local retailers for your holiday purchases.
7. Never share personal information. When buying online, retailers don't need personal information, such as your birth date or social security number. If an online site is asking for this information, leave it immediately. Also, don't save credit/debit card information on a retailer's website. Lastly, remember to log out when you're finished making a purchase.
8. Create a strong password. To create a strong password, consider using a method or scheme that's easy for you to remember but hard for others to guess. To learn more, check out the blog post from earlier this year: How to create a password that's easy to remember but hard to guess.
Do you have any suggestions or information you'd like to share? I'd love to hear from you. Please share them in the box below.

Sources:
http://www.usatoday.com/story/tech/2015/11/17/9-tips-staying-safe-you-shop-online/75878958/
http://idt911.com/education/blog/how-to-keep-bank-customers-safe-online-during-holiday-shopping-season