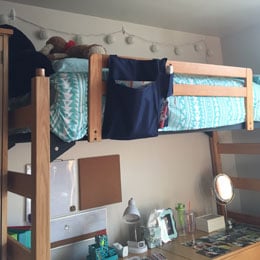 After moving your child into a dorm room, you may think your job is done. Nevertheless, as a parent you quickly realize your job is never truly done.
Because of my experience, here are some tips you might be able to use if you're moving your son or daughter into a dorm.
1. To loft or not to loft. Depending on the size of the room, maximizing floor space may only be accomplished by lofting the beds. The challenge arises when some roommates want to loft and others do not. As a parent, you quickly become an arbitrator to help reach a resolution.
It's a good idea to have your child discuss room setup ahead of time. This will help avoid the arbitration stage. When lofting a bed, different supplies may be needed. The dorm resident assistant (RA) will be able to direct you where to go for these supplies.
2. Purchase a bed skirt organizer. Once you've completed the lofting project, your student will quickly realize that access to things may be a bit more difficult. Low ceiling clearance and trips up and down the ladder make a bed skirt organizer a must-have. While we didn't have this on our original packing list, we did buy one.
Bed skirt organizers are a good place to store:
Smartphone and accessories;
Medications;
Tissues;
Glasses;
Study materials; and
The TV remote.
3. Buy collapsible chairs. My daughter and her roommates thought it would be a great idea to have a couch in their room. Even with lofting their beds, they quickly realized space was at a premium. Good ole bag chairs have come a long way and can provide comfortable seating for friends and family. Beanbags are another option.
4. Foam floating noodles can save their feet. Traveling up and down the ladder to a lofted bed can be painful on the feet. If you buy foam-floating devices, you can cut them in half, slice them partially open, and place them on the ladder rung. If they need to be secured, wrap them with duct tape.
5. What is Washi Tape? I had no idea either; however, when I asked my daughter about it, she said it works great for decorating dorm rooms. After a little research, I learned that Washi Tape is a fancy masking tape. It comes in many different patterns, is cheap, and doesn't have damaging adhesive on the back. You can even write on it!
Use Washi Tape to:
Hang pictures;
Decorate common school supplies; and
Differentiate among similar-looking phone cords and chargers.
6. Find out if extension cords are allowed. Learning about this on the move-in day can throw a wrench in your plans. Power strips were allowed but are significantly more expensive and can change how you need to set up the room.
7. Bed risers create survivors. If the arbitration failed and the consensus is not to loft the beds, floor space is going to be an issue. Since these kids need to spend the school year together, it's probably best to move on to plan B.
Bed risers can be used to raise the height of the bed, providing more storage underneath. For what they can accomplish in a small dorm room, bed risers are affordable. If you spend more money, you can get them with USB ports and outlets.
8. Clothes, clothes, and clothes. My daughter took so much clothing to school, it left me standing in the parking lot scratching my head. Thank goodness for space-saving hangers. This is another example of an item that didn't make our original packing list. It might also help to remind your college student that a full wardrobe isn't necessary. Many college kids spend a lot of time in sweats and t-shirts.
Do you have any tips or information you'd like to share? I'd love to hear from you. Please share them in the box below.