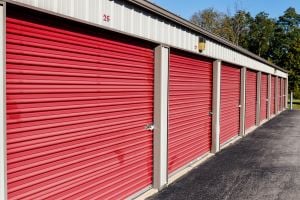 Whether you're downsizing, decluttering, or moving your college student into a new apartment, finding the proper storage unit is essential.
Here are some tips that'll help you find the right one.
1. Ask questions regarding unit and property safety. Questions may include:
Is the property under 24-hour video surveillance?
Is a security guard onsite?
Does the property have gated access?
Does the business or customer provide the lock?
Is the property well lit?
Adequate security measures will help minimize the risk of theft or damage to your property and bodily harm to you when you visit your storage unit.
2. Read the rental agreement. Before signing any contract or agreement, it's essential to understand the terms and conditions. For example, you'll want to be familiar with:
The rental duration
Payment terms and fees
Insurance requirements
Storage restrictions
3. Determine if you need a climate-controlled unit. In the past, I've rented both types of units. It depends on what you plan on storing. Overflow from your garage, such as shovels, rakes, and bicycles, can be stored in a regular unit. Items like furniture, clothes, or appliances should be kept in a climate-controlled environment where temperature and humidity levels are monitored throughout the year.
4. Estimate the size of the storage unit you'll need. Storage units come in a variety of sizes. Standard sizes in square feet include:
5x10
10x10
10x15
10x20
10x30
What you want to store will determine the size you'll need. It's better to overestimate the space size than to pick a unit that's too small. Click here to learn more.
5. Visit the storage unit in person. I truly believe in going with your gut instinct. By visiting in person, you'll be able to determine if the units are clean and maintained. You'll also be able to speak with the staff and ask questions. If everything checks out, then you can sign a contract.
6. Contact your insurance agent. Reviewing your insurance policy with your agent yearly is always a good idea. This can help uncover life changes that can affect your policy. If you recently rented a storage unit, let your agent know so they can add the appropriate coverage to your insurance policy. The last thing you want is to find out you don't have insurance coverage after a loss occurs.
Do you have any suggestions or information you'd like to share? I'd love to hear from you. Please share them in the box below.