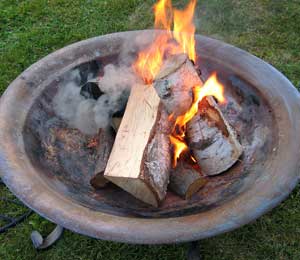 Ahhh ... summer! Warmer days and cooler nights. At this time of the year, it's fun to end the day by sitting around a campfire with relaxing conversation and delicious s'mores. Fire pits, however, can be dangerous. Theresa Meyer, West Bend senior personal lines underwriter, recommends keeping these safety tips in mind.
Fire pit safety tips
1. Check the weather forecast. If the wind picks up, your friendly campfire can be out of control with sparks flying everywhere before you know it. Those sparks can land on your home or garage and suddenly a fire is blazing.
2. Pay attention to combustibles. It's so important to pay special attention to the combustibles in your yard and surrounding area when you're planning the construction of your fire pit. Your safest plan is to have at least 15 feet of clearance between the pit and any dwelling, garage, outbuilding, or wood deck.
Pick up leaves and other debris around your fire pit to prevent the fire from accidentally spreading to these flammable materials.
3. Don't move a portable fire pit too soon. Portable fire pits are popular, partly because they can be moved and stored after each use. Please keep in mind that these units stay warm for a long time after the embers burn out. If the pit is moved near a house or garage after a fire, the heat can cause the siding to melt and even start a fire. Wait until a portable unit has cooled (at least the next day) before you move it next to a structure.
4. Be aware of burn bans. Lack of rainfall can lead to dry conditions. Be aware of the conditions in your community. Burn bans can make it unlawful to light a fire and can result in a fine.
5. Select the appropriate wood to burn. It's not wise to burn wood that's laying around your yard. Some of it may be treated with chemicals that shouldn't be inhaled. Also, soft woods, like pine can crackle and pop, throwing sparks outside the fire pit.
These precautions will help protect your property and ensure a safe and enjoyable campfire!
Do you have any tips or information you'd like to share? I'd love to hear them; please share them in the box below.