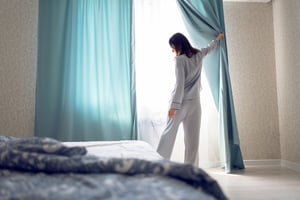 When choosing new window coverings for your home, picking the most aesthetically attractive choice can be tempting. With so many different styles to choose from, some homeowners choose based on outward appearance alone. However, there are several important factors that you should think about before making your final decision.
New curtains or shades are fundamental elements of a room and can have a much more significant effect on your home than you may expect. It's important to take a step back and examine the safety, efficiency, and future value of your coverings. In this article, we'll look at a few different window covering precautions that many homeowners miss when making their final choices.
1. Curtain Safety in Kids' Rooms.
When choosing blinds for a kid's room, be careful to avoid styles with long hanging cords. Ensure that the child's bed is nowhere near the window and that you have secure screens on the outside of each window. Additionally, try to keep the bottoms of hanging curtains tied and out of reach. Motorized blinds may be a wise choice since they have no hanging chains or cords that can be hazardous to small children.
2. Sleep's Connection With Mental Health.
When you think about sleep quality, you may consider your mattress, blankets, and room temperature. However, window coverings can immensely impact the quality of your sleep, and your mental health. Blackout curtains are becoming increasingly popular for their innovative light-blocking technology. Before choosing the thin curtains that match your bedroom's decor, consider a blackout alternative to improve your sleep, mood, and mental state.
3. Different Fabrics' Upkeep Requirements.
When you choose your curtains, you should consider how often you'll need to wash and care for the fabric. If you're choosing curtains for a kid's room or your kitchen, consider fabrics like polyester or cotton. These materials are easy to wash and often don't require dry cleaning.
4. Effects on Your Home's Resale Value.
When you're showing your home for a sale, the curtains can truly make a statement to potential buyers. Not only can quality shades make the space feel larger, but they can also work to hide unflattering wallpaper or paneling during the showing. In addition, motorized shade systems are a big plus for homebuyers and will leave a lasting impression.
5. Changes in Energy-Efficiency.
For many homeowners, saving energy equals using less water and turning off lights. However, the impact of the right window coverings on your energy bill is often quite significant. Utilizing thermal or cellular curtains can help keep your rooms warm, preventing you from cranking up the thermostat. According to Energy Saver, installing cellular shades can improve your heating energy savings by 10%. Simply choosing the right material can save you money in the long run.

Without a doubt, there are several crucial factors to consider before deciding on window coverings. Energy efficiency, child safety, and upkeep are only a few elements you should keep in mind. Take your time choosing your shades and don't hesitate to do some more research before choosing your material.
Do you have any suggestions or information you'd like to share? I'd love to hear from you. Please share them in the box below.