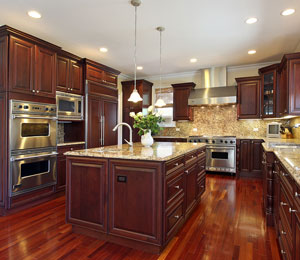 Kitchens are a popular place to spend time with family and friends. Floating islands and expansive counter tops allow us to serve fabulous meals, appetizers, and refreshments.
When it comes to remodeling, the kitchen is the second most requested home renovation. Therefore, with all the time spent in the kitchen, and the wonderful smells that come from it, it's only natural for injuries like burns and scalds to occur there.
According to the American Burn Association, more than 450,000 people are treated for burn injuries every year. Who are the most vulnerable, you may ask? The answer is young children and the elderly.
When it comes to young children, they're curious. They want to know where the wonderful smells are coming from. Therefore, it's only natural for them to reach for things above their heads when they're in the kitchen.
When it comes to the elderly, I think of both of my grandmas. They spent a lot of time in the kitchen whipping up delicious recipes. Some of my favorites include peanut butter and chocolate chip cookies, homemade applesauce, and homemade dinner rolls. Yes, I love carbs! What are some of your favorite recipes?
I also remember both of them being very stubborn and too proud to ask for help when help was needed.
Here are some tips to keep you and your family safe.
Keep children at a safe distance. When cooking in the kitchen, never hold your child. Instead, consider keeping your child occupied in a high chair with some toys or books. If they want to see what's going on, keep the high chair at a safe distance and tell them what you're making.

Use the back burners. Young kids love to reach and pull themselves up on things. By using the back burner, handles will be out of sight and out of mind.

Put hot pots, pans, slow cookers, and cookie sheets in the middle of the counter. Again, this will prevent kids from pulling things down on top of them.

Use hot water to warm baby bottles. If you're warming baby bottles, consider warming them with hot water instead of a microwave or crock-pot/slow cooker.

Always use oven mitts.
Do you have any suggestions or information you'd like to share? I'd love to hear from you. Please share them in the box below.
Sources:
http://www.safekids.org
http://www.ameriburn.org/preventionBurnAwareness.php
http://www.huffingtonpost.com/2012/07/20/home-renovations-remodeling-projects_n_1690538.html