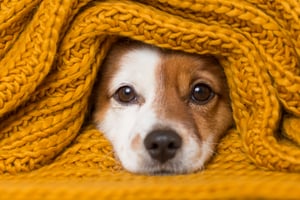 In family debates over whether to get a dog, one of the most frequently referenced drawbacks of canine companions is the mess they create. Dog lovers know that a little mess is worth putting up with for the love, friendship, and entertainment that comes from having a dog. Numerous studies have shown that dogs help improve both physical and mental health. However, even the most ardent dog lovers don't love the dirt, fur, and other messes that come with it.The keys, with any dog, are knowing how to prevent messes in your home in the first place and having the best strategies to clean them up when they happen.

This article will teach you five tried-and-true tips for keeping a clean home AND a furry pup.

1. Create an outdoor dog-cleaning station. How intensive your station needs to be depends on the breed of your dog and how much it enjoys rolling around in the mud. Owners of large dog breeds know firsthand that the larger the dog, the bigger the mess. But even smaller breeds can track plenty of dirt and much into the house.

Stop the mess before it goes through the door by cleaning your dog outside after it's gotten itself dirty. Sometimes this will be as simple as dunking your dog's paws in water; for more substantial messes, you'll need a hose, a kiddie pool, and patience.

It's also always a good idea to have towels on hand to dry off your pup before going inside.

2. Eliminate odors at the source. At some stage in their lives, dogs will have accidents in your house. Urine, feces, or vomit on your furniture or the floor doesn't mean you have to replace the whole carpet for it to be clean again.

If your dog has an accident inside, it's important to eliminate the smell completely so your dog doesn't think that your rug is its new toilet. There are many enzyme-based cleaners on the market to choose from.
3. Invest in hair-removal strategies. The first item you'll need is a solid vacuum cleaner. Usually, you get what you pay for, but if your dog is a heavy shedder, you'll need a model with strong suction and a high-quality filter. To keep your living space in tip-top shape, vacuuming will become a daily routine. And by staying on top of the fur rather than letting it accumulate, this should only take a few minutes a day.

A second tool worth keeping on hand is lint rollers. Every pet owner knows the value of these small-but-mighty sticky brushes. Lint rollers are a great way to quickly brush off your furniture and clothes to address surface-level pet hair before it becomes a bigger problem.

4. Stick to easy-to-clean supplies. When it comes to pet supplies like toys, leashes, beds, and other items your dog uses regularly, you should find options that are easy to clean and won't hold onto odors or stains.

Machine-washable toys are easy to toss in the laundry, and you don't need to deal with the hassle of washing them by hand. And water-resistant collars and leads are easy to quickly wipe down in between deeper cleanings.

5. Control the clutter. If your dog has what seems like dozens of different toys it leaves lying around the entire house, wanting to contain them is an understandable impulse. You have a few options for how to go about this.

One is to buy a basket or two for toy storage. Another option, though not feasible for everyone, is to create a "dog room" of the house dedicated to your dog's toys and playtime. With a separate room, you can simply close the door when play is over and let the clutter stay out of sight.
Cleanliness with and around dogs is important not only for your sanity but also for the health of everyone in the household. But cleaning up after your pooch doesn't need to consume your life!
Follow these five tips to keep your home sparkling with the least amount of effort.
Do you have suggestions or information you'd like to share? I'd love to hear from you. Please share them in the box below.

Author Bio: John is the Founder of All Things Dogs. A member of the Association of Professional Dog Trainers, he has been a dog lover since he was 13 years old. John is the parent to Nala, a working lab retriever. John has also volunteered at multiple animal shelters, where he gained firsthand experience of rehabilitation and force-free positive reinforcement training methods.