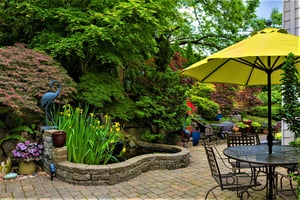 First impressions are everything, especially when it comes to your home. And if you're looking to increase your home's value, it's likely you're also thinking about selling it in the near future. Putting some effort into your lawn is a huge piece of your home's first impression to potential buyers — and it helps immensely to generate initial interest in your property. Plus, it can show them how well you take care of your home — not just your grass, but general home maintenance as well.
Many sellers spend lots of time prepping and staging their homes prior to putting them on the market. It's important to have the same thoughtful consideration for the exterior of your home — not just the lawn, but also your plants, bushes, sidewalks, and patio areas. If your outdoor space looks unkempt or too high-maintenance, it can turn off potential home buyers.
Cut Grass and Remove Dead Plants
Now's the time to get your lawn in top shape. If you have a bit of time to prepare, fertilize your grass in the season leading up to when you plan to put your home on the market (unless it's winter). This ensures your grass will be green and lush. If you have any bare spots in your lawn, consider reseeding or over seeding those problem areas. Be careful though, it's not usually recommended to try to grow new grass in areas you've recently fertilized.

Then, remove any dead or unsightly plants or bushes. These are sure to draw attention — and not the kind of attention you're looking for. Make sure to give you lawn a good mowing and edge trimming, especially prior to any listing photos, open houses, or showings.
Maintain Pavements
Take a good look at your driveway, sidewalk, and patio and if they're starting to sink or crack, consider if it may be worth it to hire a mudjacker to raise the slab or fill in cracks. Also give these spots a good power washing paying close attention to get rid of any cobwebs, leftover chalk projects, or dirt. It's amazing what a good cleaning can do in making your pavements look new again.
Clear the Yard Clutter
As with the inside of your home, if you're prepping your home for sale, declutter, declutter, declutter. This means removing kids' toys, dog houses, water hoses, gardening equipment, mowers, and kiddie pools from view. If you need to keep them on the property, tuck them neatly away in a shed or storage box. But remember — potential buyers may check these places too! Things that can stay in view: patio furniture, hosed-off jungle gyms, and modest potted plants — but only if they're in excellent condition.
Create a Cozy Back Patio
Nothing makes a yard feel more like a home than a great back patio ready for relaxing and entertaining. Make sure your furniture is in great shape and has clean, fresh, outdoor pillows. If you've left them outside over the winter and they're showing some stains, consider buying some new ones. Include some plants in nice, ceramic pots (not cheap plastic!) and maybe a clean patio umbrella. Don't go crazy with strands of outdoor lights — you want to evoke an air of class, not one of a tacky bachelor pad.
Add Pops of Color
A bit of color goes a long way in creating a calming, clean look and feel when potential buyers visit your home. One way to do this is through your landscaping. If most of your in-ground plants are of the non-blooming sort, consider adding a few pots with flowers that will be in bloom around the time you'll be showing your home. If you're short on time, focus on the space right in front of the entryway, followed by the area around the patio.

Another way to add color around the exterior of your home is by adding bright patio cushions on the front porch or back patio or a nice, tasteful welcome sign or doormat. You should think of your outdoor living spaces as being staged, just like the rest of your home.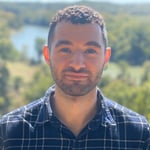 Author Bio: Ben Mizes is the Co-Founder and CEO of Clever Real Estate, the free online service that connects you with top Real Estate Agents who can help you save thousands on commission. Ben is also an active real estate investor with 22 units in St. Louis, and a licensed Real Estate Agent in the State of Missouri.