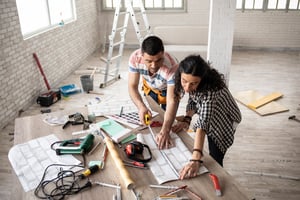 This year, many homeowners will start a home remodeling project of some kind. Whether you're tearing down your kitchen and starting from scratch or just making modest improvements to the master bathroom, every dollar you spend matters. After all, going over budget doesn't just hurt your financial picture today, it cuts into your overall return-on-investment. This article will discuss how you can save money on your remodel and what to consider before getting started.
Know your project scope ahead of time
All remodeling projects should be evaluated based on their cost and time. In other words, how much are you willing to spend, and how long are you willing to spend doing it? If your answer to these two questions is wishy-washy, you need to talk to a home remodeling professional and get a more concrete sense of your budget and timeline. Without either, you could end up spending too much on a home remodel that never quite gets across the finish line.

Here's one tactic: think of your home as a rental property. In a property you're planning on renting out to others, you'll probably focus more on how your investment of time and money translates to your bottom line. How does this impact the value of my property? Is this worth what I'm putting into it? As opposed to investments made in your own home, you'll also think about it from the perspective of others. This doesn't mean you have to go with white granite countertops if you hate the look, but your remodel should appeal to other homeowners if you want to ever sell your home. Of course, with a rental, every day you spend remodeling is a day without a renter and associated rental income. That's motivation to keep things on track and not expand the scope of the project midway through the remodel.
Prioritize quality, even if it means spending more up front
This may seem paradoxical—after all, isn't this an article about saving money? Here's the thing: as a homeowner, your home is a long-term investment. As such, you need to consider both the short-term and long-term costs of a remodeling project. You're probably familiar with the expression "you get what you pay for." That saying might as well have been invented by an unfortunate homeowner who realized, years down the road, that choosing the cheapest materials and people to install them was a bad decision.

Yes, going with cheap countertops, cabinets, floors, and other remodeling materials can lower your up-front remodel costs but, it's impossible to hide poor quality. Cheap materials are more likely to break, show signs of wear and tear, or—generally—just not look great five years in. At that point, you'll be back to square one and paying even more to once again remodel your home.

When it comes to both materials and professionals, it's always worth paying for quality. Instead of selecting the cheap options, turn your focus to getting great deals on high-quality goods and services. We'll talk more about this below.
Invest in energy-efficiency and set yourself up for future savings
No one can predict what home trends will be like a decade from now. But here's something you can know for certain: homes will still have cooling and heating systems, and homeowners will still want to do whatever they can to lower their utility bills. Investing in your home's energy efficiency is just about as future-proof of an upgrade there is. It's the type of work that'll set you up for savings whether you continue to live in your home or list it.

One of the great things about efficiency upgrades is that they can be either large or small projects, depending on your budget and timeline. For example, replacing single-pane windows with efficient dual-pane windows can seriously cut down your energy spending for years to come. So can adding attic insulation. By trapping the cooled and heated air generated by your HVAC systems, insulation saves you money throughout the year and boosts the energy-efficiency of both your air conditioner and furnace.
Work with an experienced contractor
Too many homeowners make the critical mistake of choosing the lowest bid instead of the best value bid. When considering remodeling quotes from multiple contractors, weigh their experience and past work against how much they'll charge. Not only will a great contractor complete your remodel on time and on budget, but the quality of the work will be far superior to the cheapest bid.

Even if their bid is higher, don't overlook how a high-quality contractor can save you money. For example, experienced contractors often have pre-existing connections and jobs that allow them to order remodeling materials in bulk or at discounted contractor rates. As we alluded to previously, this is a great way to get quality countertops, cabinets, and floors at a lower price.

When vetting out remodeling contractors, be sure to ask them for references to other homeowners they've worked with in the past. This will give you an opportunity to get an unbiased, firsthand account of what working with them is like.

Author Bio: Lauren Anderson, is the content specialist at Wagner, a professional HVAC and plumbing company serving Albuquerque and Santa Fe. Lauren has studied Construction Management and currently enjoys writing about topics that help homeowners in taking good care of their homes.