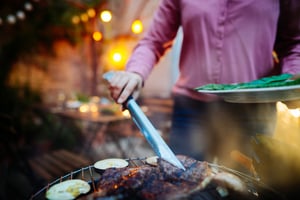 For some, Memorial Day is considered the unofficial start of the grilling season. However, if you're like me, you enjoy grilling out year-round.
According to the Hearth, Patio, & Barbecue Association (HPBA), 70% of Americans own a grill or smoker. It's no surprise that a gas grill is the most popular.
No matter how often you use your gas grill, cleaning it regularly should be added to your "To Do" list. I cleaned mine last fall, but it's definitely time for a spring cleaning.
Here are a few reasons to clean your grill.
Kills bacteria. Unclean surfaces can contain bacteria. The last thing you need is contaminated food which could make you ill.
Improves taste and flavor. A dirty grill can alter the flavor of your food. Nobody wants to taste what you had the last time you grilled. Keeping your grill clean will allow you to enjoy the best flavor possible.
Improves efficiency. If your burners are gummed up with grease, your grill may struggle to heat to grilling temperatures. A clean grill will heat up faster and allow the heat to be evenly dispersed when grilling.
Increases grill life expectancy. Depending on the type of grill you bought it could have had a hefty price tag. Keeping it clean will allow you to enjoy it for many years.
Reduces flareups. It happens to the best of us. You walk away or turn your back for what feels like a few seconds. When you return, you find smoke, flames, and charred remains.
Reduces carbon and soot buildup. The buildup of carbon and soot is a by-product of grilling.
Reduces carcinogens. Before each use I scrape my grates. I didn't realize that the buildup at the bottom of the grill could cause carcinogens. I'm going to clean the bottom of my grill more regularly.
A clean grill not only looks good, it works better and is safer for you and your family. Here are some tips for maintaining and cleaning your gas grill.
Give it a nice shine. Depending on where you keep your grill, it may be covered in dirt, dust, dead insects, and contaminated food. A simple solution includes a bucket of soapy water and a soft sponge. Never scrub your grill with coarse objects, such as steel wool as that can leave scratches. If your grill is stainless steel, specific cleaners are available. Visit your local retailer to learn more.
Take it apart. There's more to a grill than you may realize. Grates, burner tubes, flavorizer bars, and catch pans may be a part of yours. Depending on how often you grill, these items can become extremely dirty. Make sure you clean them thoroughly each year.
Clean the grates. To start the process, turn on your grill to the highest temperature setting. Let it run 10-15 minutes so it can burn off leftover food. After it's done, use a bristleless scraper to remove the carbonized debris. For deep cleaning, remove the grates when they're cool and soak them in soapy water overnight.
Clean the lid. If it looks like the paint is peeling off the inside of your lid, rest assured it's not. It's simply a buildup of carbon and soot which is by-product of the grilling process. While it's non-toxic, I recommend cleaning it soon to prevent the soot from getting on your food.
Inspect the burner tubes. Your gas grill may have several burner tubes. These tubes heat your grill and cook your food. Grease drippings and other food debris can cause clogs. If your tubes are clogged, you may notice a smaller flame or have difficulty grilling your food. To get your grill back to operating efficiently, carefully clean these tubes.
Change the catch pan. If you have a catch pan that collects grease or other debris, clean it, or install a new one on a regular basis. This will prevent old grease from flaring up.
Vacuum off the cobwebs. Use a wet and dry vacuum to suck up the cobwebs or other debris that may be in or on your grill.
Do you have any tips or related information you'd like to share? I'd love to hear from you; please share them in the box below.
Source:
https://www.hpba.org/Resources/PressRoom/ID/1656/Its-National-Barbecue-Month--Here-Are-Seven-Facts-About-Our-Favorite-Backyard-Pastime