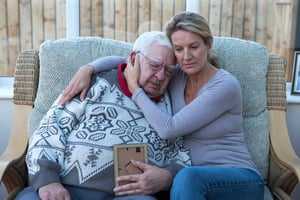 Did you know that November is Alzheimer's Awareness Month? In 1983, President Ronald Reagan created this important observance which is still recognized today.
If you have family members or friends who've suffered from this disease you've seen the devastation it has on them. Alzheimer's disease is a type of dementia that affects more than five million people.
Unfortunately, there are no medications or cures. However, some treatments can slow down its progression.
Risk Factors
There are a variety of risk factors that may contribute to the disease.
10 Warning Signs of Alzheimer's
The disease causes memory, thinking, and behavioral problems, making daily life difficult.
Stages of Alzheimer's
The progression of Alzheimer's varies but gets worse with time.
Insurance Coverage
Nick, senior Personal Lines underwriter, has experienced the impacts of the disease firsthand. His grandfather has been in an assisted living facility for many years. When Nick's family realized that he needed additional care, they had so many difficult questions, including:
Where should they move him?
What kind of facility is most appropriate?
What is the quality of care?
Could he afford to be there?
Even after they found the appropriate facility for him, many questions remained. Now, they were around insurance. He no longer needed insurance coverage because his condo and car were sold. However, he still needed personal property coverage for the personal items in his apartment and liability insurance so he could move freely around the facility.
His family purchased the "Assisted Living Care" endorsement from his daughter's Home and Highway® policy to get the appropriate coverage. This endorsement provided liability coverage and up to $15,000 in contents coverage, which was perfect for his possessions. The endorsement also gave extra coverage for items like a wheelchair, dentures, and eyeglasses.
No one should travel this road alone. If you need help or support regarding Alzheimer's disease, click here. If you have questions about insurance coverage, contact your insurance agent.
Sources:
https://www.seniorliving.org/memory-care/alzheimers/awareness/
https://www.alz.org/
This article is intended for general educational and illustrative purposes only and should not be construed to communicate legal or professional advice. Further, this article is not an offer to sell insurance. Please consult with your licensed insurance agent for specific coverage details and your insurance eligibility. All policies are subject to the terms, conditions, limitations, definitions, and exclusions contained therein.